The city of South Lake Tahoe is a relatively small town located along the scenic shore of Lake Tahoe. This city is frequented by couples and families who are looking for a quiet weekend getaway. Travelers headed towards Las Vegas, Nevada often make an overnight stop at South Lake Tahoe to rest. This city is also a frequented skiing center of western United States as it enjoys a snowy highland climate with relatively low humidity. Snowfall lovers will not be disappointed as this region is known to receive heavy snowfall each year. This destination is also known for hosting the annual three-day Blacklist Festival that pays tribute to unconventional art and film. If you're looking for a place to stay, South Lake Tahoe has some of the most luxurious vacation rental homes in the area. Check out the list of the best Vrbo vacation rentals in South Lake Tahoe, California.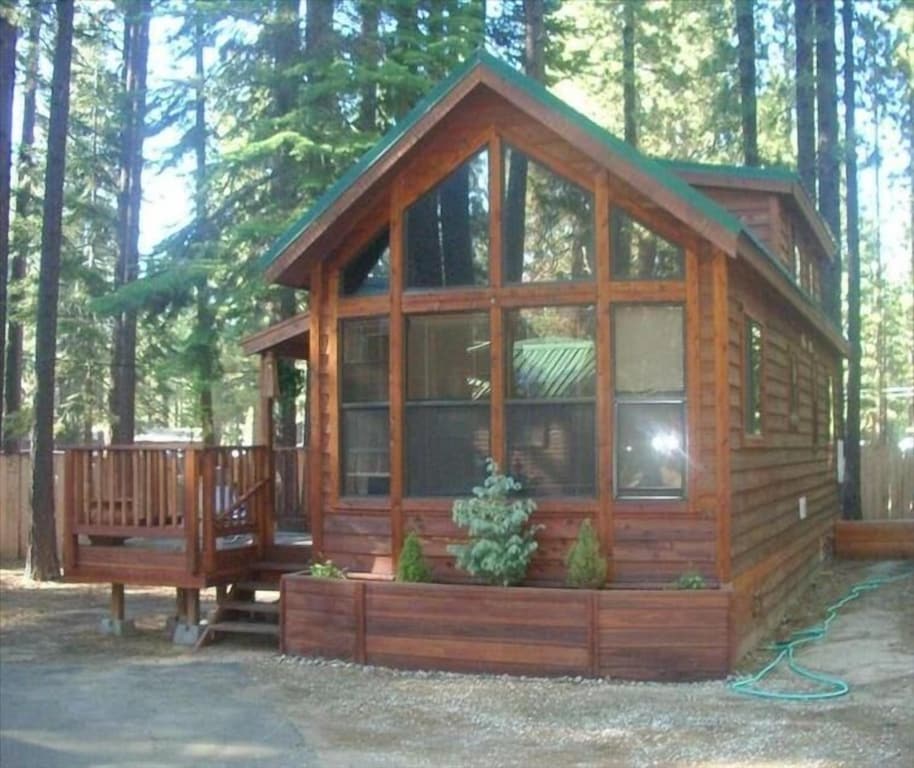 Located close to the mountains, the Cubby Bear Cabin features beamed ceilings and cedar paneling. It offers a breath-taking view of the gorgeous ponderosa pines. Equipped with an updated gas-powered fireplace, this cabin is the best way to comfortably enjoy the snowfall. The property features two bedrooms and offers a sleeping capacity of five people. The cabin is pet-friendly and offers all the expected amenities including off-street parking and a dedicated dining area. It is also equipped with additional features for your safety such as a smoke detector, exterior lighting, and a carbon monoxide detector. Nearby, there are plenty of fun activities that you can indulge in such as kayaking, boat rides, outdoor barbeque, water sports, skiing, snowboarding, tennis and even golfing.
Cubby Bear Cabin*Pet Friendly*Picturesque, So Lake Tahoe

Accommodates: 5
Minimum Nights: 2
Refund Policy : 100% refund if you cancel at least 60 days before check-in.

Located just five minutes' away from El Dorado Beach, this two-bedroom house offers an occupancy of four people. Bike trails are located nearby as well. If you are looking to indulge in international cuisine, a five-minute walk will lead you to a wide variety of options such as Japanese, Italian, Mexican and even Chinese. There's even a burger shack located nearby. This home is well-equipped with modern amenities and offers an incredibly comfortable memory foam mattress. As the property is centrally located, it offers you easy access to all local attractions.
Centrally Located Charmer | 5 Mins to El Dorado Beach | Fenced Yard, Deck

Accommodates: 4
Minimum Nights: 30
Refund Policy :

Located a short walk from the Truckee River, this cabin-style condo offers an open kitchen, complete with granite countertops and a host of amenities which makes preparing meals a breeze. You can also take a stroll and find multiple dining out options. This cabin is designed with group vacations in mind and houses a maximum of four occupants between the grassy meadows. The property is located in close vicinity to the Heavenly Mountain Resort and Lake Tahoe.
Cub's Den: Cabin-Style Condo in South Lake Tahoe - Near Camp Richardson
This luxurious home is located incredibly close to Lake Tahoe and is designed for comfort. Casinos and outdoor activities are also available close by. This upscale property offers a wide variety of amenities that include a dishwasher, garbage disposal, dining table, recliner and more. The property offers two bedrooms and can house six people comfortably.
Remodeled House, Walk to Lake, Close to Heavenly, Wi-Fi, HDTV, $120, Free Night
Designed for two guests, this intimate cabin offers laminated flooring and a renovated bathroom with a stone vanity, bronze fixtures and more. The property is well-stacked as far as amenities are concerned. It features a back porch which is perfect to enjoy the forest-view in the morning with a warm cup of freshly-brewed coffee. It features a TV in both the bedroom as well as the living area. Additionally, the cabin is located in a quiet neighborhood so you won't be surprised by sudden loud noises, making it perfect for a peaceful stay.
Updated Basecamp Close to Creek, Meadow & Bike Path
Originally hand-built in 1960, the 49 Pines cabin is the perfect way to spend quality time with your loved ones. This cabin has two bedrooms and offers a maximum occupancy for six people. A short drive will lead you to Pope Beach, Camp Richardson Beach, the Stables and exceptional nightlife experiences. The cabin comes with all the required amenities and offers additional items such as games, puzzles to keep you entertained. A dedicated dining area is also available which seats six people. In case you are in the mood for a barbeque, this property also offers an outdoor grill and a sizable patio.
Available Thanksgiving South Lake Tahoe Cabin Ski Hike Fish Boat Sleeps 6
Located directly across Lake Tahoe, this condo offers incredible lake and mountain views. This three-bedroom property is equipped with three bedrooms and two baths. Located incredibly close to the casino and ski resorts, this condo features an outdoor as well as an Olympic-sized indoor heated swimming pool. Additionally, there are tennis, volleyball and basketball courts. The property offers you the luxury of a private beach and dedicated parking.
357 Ala Wai Condo #205
Located 2 miles (3.2 km) from the casinos, this cabin is located within walking distance of the Regan beach. The public beach offers a dedicated playing area for children. A couple of miles away is the Heavenly Ski Resort and the Stateline Casinos which makes commute incredibly convenient. The pet-friendly cabin is a great way to unwind and enjoy your weekend. The property is thoughtfully constructed and offers all the major amenities, including a cozy fireplace. The cabin features two bedrooms and can accommodate four people.
780 Merced Dog Friendly Cabin Steps to the Lake with a double lot fenced yard.
If you are looking for a pocket-friendly cabin that is located centrally, look no further than the 1421 Meadow Crest Cabin. A large backyard is perfect for chilling on a hot summer day or playing during the snowy winters. Besides all these features, this property is also pet-friendly and offers a dedicated garage as well. This property offers 3 bedrooms, 2 bathrooms and offers a sleeping capacity of 10 people. It is equipped with all the amenities that you might need, including a microwave, a dishwasher, a fireplace, and an outdoor barbeque.
1421 Meadow Crest Classic One Level Cabin. Steps from the River!

Top guest reviews

Great place for our families to stay close to the ski run marina and everything else in south lake

and it seems well taken care of

Not the most updated decor definitely gives vibes of visiting grandma but that's part of the charm

It may be older in style but everthing worked

Read more reviews
For people seeking a quiet refuge, this house is located near the Truckee River. Casinos and ski resorts are merely a short drive away. The property has been recently renovated and offers all the amenities including a well-equipped kitchen, complete with a microwave. The property is located in a quiet neighborhood for an added peace of mind. Bike trails are present near the property which offers a scenic route along the east side of Tahoe Keys Marina. A walking trail near the highway leads to a dedicated camping zone. This home offers three bedrooms and has a maximum housing capacity of eight people.
QUIET NIEGHBORHOOD / MEADOW FOREST VIEW / CLOSE TO MARINA / FROM $175/NIGHT

Top guest reviews

the few that had injuries) sliding down the yard and laughing like little kids

yet there's plenty of room to sleep in

It was anything but quiet

there was a RV parked on the side of the drive way that made it difficult to get two trucks in the driveway

We love the cozy living room with the gas fireplace

so we build a sledding trail with all the adults(except

We had a big group

Owner was quick to reply when we couldn't find wifi password Highly recommended

Finally as we were checking out and leaving

so we got to listen to a nail gun going off very frequently

Plenty of space Felt like a cabin in the woods Close enough to downtown yet far enough away

We spent a lots of time playing games

but it was a legitimate 15-20 degrees warmer in the two upstairs bedrooms with no way to cool it down

the house was ok but couch had multiple tears and few things broken in the house

Of course we never touched it why would we

Read more reviews
Enjoy a cozy stay at South Lake Tahoe, California
Plan your next vacation at South Lake Tahoe and reconnect with nature. Enjoy well-equipped Vrbo accommodations and partake in a multitude of fun and engaging activities. This destination is perfect for couples, friends, and family.
Disclosure: Trip101 selects the listings in our articles independently. Some of the listings in this article contain affiliate links.
Get Trip101 in your inbox
Unsubscribe in one click. See our privacy policy for more information on how we use your data