Pahoa features the land of the volcanoes, stretching from the summit of Kilauea in the east to the sea. Lava rocks and pathways, black sand beaches and several other natural wonders make up the Puna district and town of Pahoa, which lies on the island of Hawaii's easternmost tip. Pahoa, embodying an old world hippie charm, shows off its streets with wooden boardwalks, surrounded by nature, and has a variety of shops and eateries, and is especially known for its Makuu Farmer's Market that sells the local produce of the land, including fantastic roasted macadamia nuts. If you're traveling to Pahoa, Hawaii, then listed below are 10 of the best Vrbo accommodations that you should consider. Scroll down to learn more.
This two-bedroom house is only 25 minutes away from Hilo International Airport. Both biking and walking trails are available around the house, through the greenery. Several fruit trees such as papaya, avocado, banana and citrus, are present, from which you can pick and eat fresh fruits. The house features a private balcony (lanai), an outdoor shower and an outdoor gas barbecue grill, on top of the basic necessities. Experience free live Hawaiian music outdoors at the beach. Kehena Beach, Mackenzie State Park, Kalapana Village, and the Pahoa Town, with its 11 multinational restaurants and food stores, are must-visit attractions near the house.
Retiro de cinco estrellas en el bosque lluvioso asequible

Accommodates: 4
Minimum Nights: 3
Refund Policy : 100% refund if you cancel at least 60 days before check-in.

The three-bedroom apartment is located in the Puna Coast of the Big Island, with a fully equipped kitchen and two bathrooms. There are geothermal warm pools where you can soak and enjoy the warm sun. The house has wooden floors and decorative embellishments from Bali. Enjoy the view of the ocean from the stone terrace and experience the beauty of palm, bamboo and orchid trees lined in the private botanical garden. Linens, comfortable beds, floral arrangements made from fresh flowers picked from the garden, are all available in this rental.
World Class Garden Residence

Accommodates: 7
Minimum Nights: 2
Refund Policy : 100% refund if you cancel at least 30 days before check-in.

This is a beautiful house that you can rent for really cheap. There are three beds on one floor and the fourth bed is on the third floor. Basic amenities and toiletries are provided to the guests. It is only a few minutes away from the Kalpana Lava Fields, Pohoiki and Kehena Beach. Hawaiian jungles, rainforests, several other black beaches, Farmers Market, Space Community Arts Center, Keck Observatory and the Volcano National Park are a few spots to visit around here.
Bonita casa grande cerca de las playas de arena negra y campos de lava Kehena / Pohoiki.

Accommodates: 6
Minimum Nights: 2
Refund Policy : 100% refund if you cancel at least 30 days before check-in.

This is a beautiful two-story, two-bedroom house, with rooms offering a mesmerizing view of the ocean. The kitchen is fully equipped. There is an outdoor barbecue dining, a covered balcony, mature fruit trees, from which you can pick and eat the relish. The wooden floors and the bamboo and wooden furniture add to the appeal of the apartment. Kehena Black Sand Beach is only 1.2 miles (2 kilometers) away. If you are lucky, you will find turtles and dolphins here.
Experimente Hawai en un jardín botánico de 3 acres

Accommodates: 4
Minimum Nights: 3
Refund Policy : 100% refund if you cancel at least 30 days before check-in.

This is a three-bedroom vacation home with a private pool. The house is found in a Hawaiian rainforest, surrounded by palm, bamboo, bromeliad and orchid flower gardens. MacKenzie Park, with its lava-laden regions, is a 15-minute drive along the ocean. Isaac Hale Park with its black sand beaches is also nearby. The bedroom suites have their own bathrooms. There is a separate master bathroom. The bedrooms overlook the pool, the greenery and the distant ocean. The East Side of the Big Island is one place a foodie should definitely visit. The house is a beauty in itself. It will be a treat to stay in it. Both the exterior and the interiors are too beautiful. Gorgeous warm lamp lights, a gourmet kitchen, wood furnishing, bamboo sliding doors and every other thing is a charmer.
Five star luxury home w/pool on 11 acre botanic garden-private hosted,caretaker

Top guest reviews

Au milieu des cocotiers et un verger ou j'ai

I miss NOT having a TV in my room

I miss it greatly Fresh coconut water every morning from the trees special honey from the bees

The property is absolutely incredible and the grounds should be featured in a magazine

et oranges chaque matin se trouve ce coin de paradis au sud de l'ile tres bien situe pour pour explorer les meilleurs endroits de l'ile Parfaitement fidele aux photos

He really made our trip We also fell in love with his sweet dog Rufus and the house cat

We would love to have a glass of wine with the owner and learn more about their vision and how things came about

David and Robert are exceptional hosts and made us feel at home Local options include unique beaches

Pahoa Uncle Roberts was a really cool an unique experience that we hope to do again some day

We met Matt in Pahoa and followed him in (Matt's amazing btw )

We took advantage of some great local sights including Volcanoes National Park Kehena Beach and Pahoa town

It is very secluded and secure inside gated street

et le terrain et plus qu'impeccable est ou j'ai passe un

Coconut Island Kaleo's in Pahoa Uncle Robert's night market the town in Hilo and Richardson Ocean Park for snorkeling but ended up not staying too long

If you are looking for a quiet beautiful escape

Read more reviews
This is a new two-bedroom and two-bathroom flat that features a kitchen with granite counter top, a beautiful balcony with an open-air dining area, two queen beds, closets next to the bath area and dressers. You will live in absolute comfort here, with the apartment adorning all the basic amenities like a flat-screen TV, DVD and a fully equipped kitchen, with spices and condiments. Experience the beauty of the rainforest, along with the groves of tangerine, banana, lime, orange and more, while living in this peaceful home.
COME & WITNESS THE LAVA PATHS
Enjoy a stunning view of the ocean from the huge balcony and the beautifully pruned backyard, which is the star of this place. The views are to die for, owing to both the interior and the exterior. The interior is decorated well and features wood furnishing, and it also has all the basic amenities needed for a comfortable and exciting stay, including a well-equipped kitchen. The cottage is on the Puna Beach Palisades, only a mile (1.6 kilometers) away from the Kehena Black Sand Beach. Hawaii Volcanoes National Park and Uncle Robert's Wednesday Night Market are nearby. Pahoa town, with its several restaurants and shops, is also quite close to this place.
Private ocean view retreat w/ big yard & covered lanai - walk to the beach!
This is a one-bedroom apartment with every amenity required to live comfortably. It has a well-equipped kitchen to cook full-course meals, and a spacious living area. There is a TV for your entertainment, a washer/dryer, a hot tub, free internet, free parking and an outdoor grill. Basic items of household utility such as towels are provided. Cook luscious grass-fed beef on the grill while enjoying the beauty of the greenery around you. The Leilani Estates is only 2 miles (3.21 kilometers) from this place.
Very Cute And Clean Cottage Home, With Hot Tub And Forrest Views!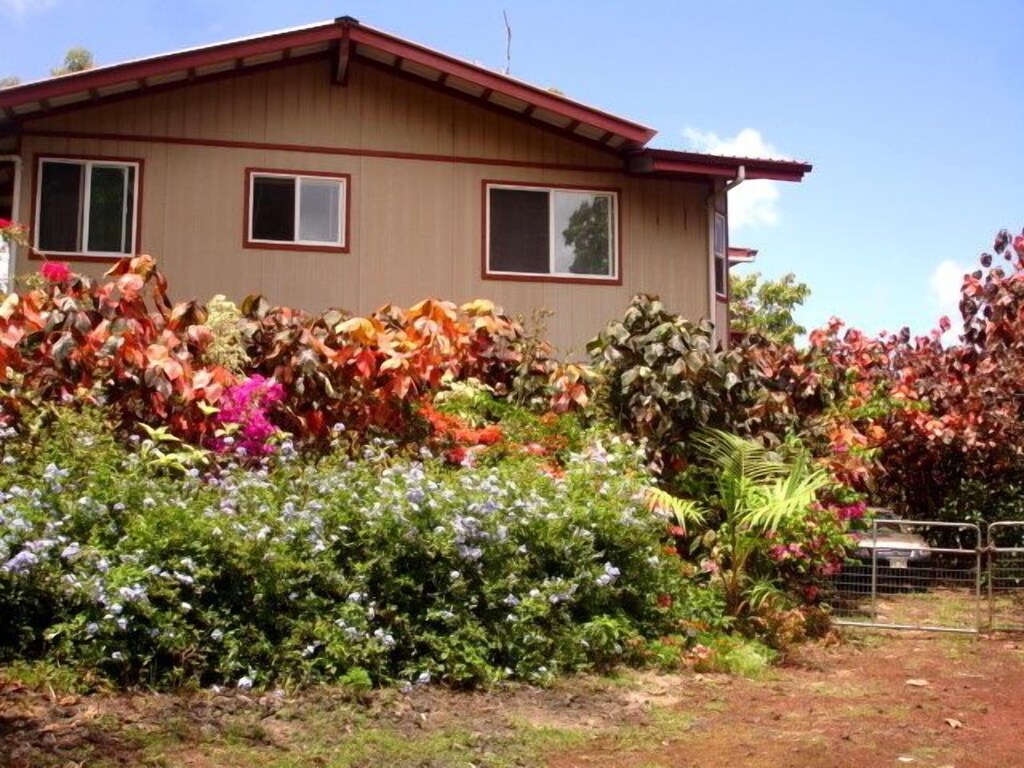 This is a one-bedroom house amidst the jungles and it forms a part of the Opihikao settlement. The Opihikao Church and the Kehena Black Sand beach is only a few miles away from this cottage. The balcony extending from the bedroom offers a gorgeous view of the tropical orchard with its fruit trees, from which the guests can pick and eat fruits. The cottage is powered with batteries and a back-up generator is situated far away. It also has an internet connection to facilitate work and entertainment. Pahoa town, with its restaurants and shops, is nearby. The ocean is a few steps away from the cottage.
Very Private Cottage near the sea located in a 9 acre tropical fruit Orchard.
Take a Lava Boat Tour to discover the remains of the calamities or visit the Mauna Kea Visitors Center at 9,200 feet (855 meters) to enjoy a spectacular view of the skyline. Hilo International Airport is only 15 miles (24.14 kilometers) away from this cottage, which is located in the Puna District of the Big Island. Pahoa town is nearby to offer you with ample entertainment. The apartment is situated amidst the rainforest and hence affords a beautiful view. The apartment features a kitchenette, a queen-sized bed, a closet, and a living area with a table comprising your work-space. The bathroom is nice and petite with a shower, and there is also a parking space on the premises.
We'll be back, soon...so you'll be able to enjoy the newest beach on the planet~
A laid-back atmosphere in Pahoa
Enjoy this charming city in its true essence, by experiencing the laid-back atmosphere. It is important to find the perfect place to stay at, to extend the happy experience of the explorations you make around the city. Book one of the above vacation rentals today.
Disclosure: Trip101 selects the listings in our articles independently. Some of the listings in this article contain affiliate links.
Get Trip101 in your inbox
Unsubscribe in one click. See our privacy policy for more information on how we use your data