The perfect spot for both hiking and swimming, Diamond Head is a tourist's paradise. The 763 feet (33 metres) summit of the 300,000 years-old crater grants a spectacular 360-degree view of the Waikiki Beach and a gorgeous sight of the Pacific Ocean. Waikiki Beach nearby is one of the world's best beaches and is responsible for welcoming and drawing in tourists in Hawaii. The beach has been a favoured destination for royals and has also been popular among the locals long before tourists started arriving. There are several means of acquiring entertainment in this region in Hawaii. Both the Diamond Head Crater and the beach are tourist spots themselves. So, find the perfect place to stay at the best price from among the Vrbo accommodations in Diamond Head, Hawaii listed below.
The seventh-floor balcony of this apartment offers incredible views of the Waikiki's Gold Coast, Diamond Head and the Pacific Ocean. Major tourist attractions like the Kapiolani Park, Waikiki Aquarium, the Outrigger Canoe Club and the Honolulu Zoo are all close to this place. It has a beautifully designed and fully equipped kitchen and the living room is pretty and spacious. There are balconies in each of the bedrooms. A part of the Diamond Head Beach Hotel & Residences, there is a private beachfront area to relax in. Parking is available on the premises.
Balcón frente al mar, 2 habitaciones, cocina completa

Accommodates: 4
Minimum Nights: 30
Refund Policy : 100% refund if you cancel at least 30 days before check-in.

This beach house is located at the base of Diamond Head Crater. The apartment, even though on the third floor, offers a wonderful view of Diamond Head, Makiki Mountains and the Waikiki skyline. The interior decor of the place is thoughtfully put together, inclusive of antique furniture, Italian porcelain-tiled floors, Berber carpeting and Roman window shades. It also has a large TV and a 10-speaker surround sound stereo. The bedroom is equally embellished with a crystal lamp, teak and bamboo dressers, a TV, DVD player and several other amenities.
Available August 14th. Luxury near the beach
Go swimming, snorkelling, or sunbathing along the Gold Coast while staying in this fourth-floor suite. It features a gourmet kitchen. a spa bathroom (with marble inserts), a spacious living room and pretty lighting. Basic toiletries are provided to the guests as well. There are two flat-screen TVs, a Blue Ray DVD and a home stereo system. The nice and spacious balcony with a seating arrangement provides a sparse view of the ocean and the mountains. Complimentary spa amenities, fresh fruits, organic tea, coffee and Hawaiian tropical flowers are what you're greeted with at your arrival.
Luxurious Getaway
The house has three bedrooms and a study, which can pass off as the fourth bedroom. There is a Weber gas grill and a dining area outdoors in the beautiful backyard. The house flanks two living rooms, a dining space inside, a well-equipped kitchen and a laundry area. The white sand beach is nearby and Waikiki is also a short stroll away. Enjoy a lovely walk along the ocean to reach Waikiki and enjoy all its attractions. The house owing to its central location makes it easy for people to both find solace when required and experience the primary activities of a livelier environment.
Gold Coast Hideway al pie de Diamond Head

Accommodates: 8
Minimum Nights: 30
Refund Policy : 100% refund if you cancel at least 14 days before check-in.

This penthouse is on the Gold Coast and only a short walk away from the beaches, stores and restaurants of Waikiki. It offers panoramic views of the ocean, Diamond Head and Kapiolani Park. The house features Travertine floors, cherry wood cabinets, African ivory granite tops, a 40-inch HD TV, BlueRay and free WiFi among several other extravagances. Laundry facilities are available here too. The view from this place is magnificent. The kind of peace and seclusion you find here is one of a kind, but it is also close to everything you want to experience in Waikiki. Just rent a surfboard and go surfing, go swimming or sit by the beach with a glass of wine, with some music playing in the background.
Penthouse impecable - Vistas al océano y Diamondhead

Accommodates: 2
Minimum Nights: 10
Refund Policy : 100% refund if you cancel at least 14 days before check-in.


Top guest reviews

The room itself is cozy with nice views

we had access to the park

You sleep to the sounds of the ocean and the fountain across the street

we thought it was very comfortable

Windows on both sides ot the unit make it feel like a treehouse

You can see the ocean from every angle looking outward Jan was also easily accessible when we had any questions

I had a wonderful experience

The studio was just right for me and my husband

Jan thank you for sharing your lovely home with us Until next time

The views are amazing I especially enjoyed having all the windows open and feeling the ocean breeze all night

The location is perfect and I enjoyed walking to the beach

You are far enough away from the nite life noise and close enough to stroll casually for a starbucks coffee and a lovely walk towards The Hula Grill and Dukes and you can even stroll aimlessly towa...

Not only is the location ideal--near enough to enjoy Waikiki but far enough to be quiet and romantic--but the room is beautifully maintained and stocked for a luxury experience in paradise

The room is walkable to restaurants (about a mile to a mile and a half) but we spent a lot of money on Ubers to get to sightseeing things like a luau

It was beyond perfect and loved looking out over the ocean from all windows

Read more reviews
The apartment belongs to the Diamond Head Estate Paradise, which is located just below the Diamond Head's Le'ahi Peak State Monument. The rental is situated amidst a tropical forest comprising a variety of island birds. Waikiki Beach, Kapiolani Park, Ala Wai Golf Course, the Honolulu Aquarium, Waikiki Shell Amphitheater, Kapiolani Bandstand and the Honolulu Zoo are the famous attractions only a short walk away from this place. There is a gourmet kitchen and shaded balconies with an arrangement for barbecues, and the bedrooms have comfortable and beautiful furnishings.
El paraíso escondido de Diamond Head

Accommodates: 6
Minimum Nights: 4
Refund Policy :

This three-bedroom house features a hot tub, a pool, a barbecue area, a TV, split air-conditioning units and three bathrooms. You can park your car for free along the street or across Kapiolani Park. The beach, only a short walk away from the house, affords several fun activities, such as swimming, snorkelling, paddle boarding. Enjoy windsurfing, hiking at Diamond Head Lighthouse and Crater, shopping, dining, dancing, playing golf, visiting the zoo and the aquarium in Waikiki nearby. This is a great place to put up with your family, including children.
Pool | HotTub| Block to Beach | AC | Walk to Waikiki
Only minutes away from the Pacific Ocean, this beautiful house located on the Gold Coast is perfect for a couple. The interiors of the house are designed with utter precision. The house is so good to look at that staying in it makes for a wonderful treat. It is a one-bedroom apartment, with a spacious drawing room area. The kitchen has granite counter tops and features all the necessary amenities required to curate full meals. Visit the aquarium and the zoo, only minutes away from the place, and enjoy a nice romantic walk by the Waikiki Beach and end the day with a good dinner at one of their best restaurants. Don't forget to visit the farmer's market on Saturdays, to pick up some of the fresh local produce.
Waikiki's Gold Coast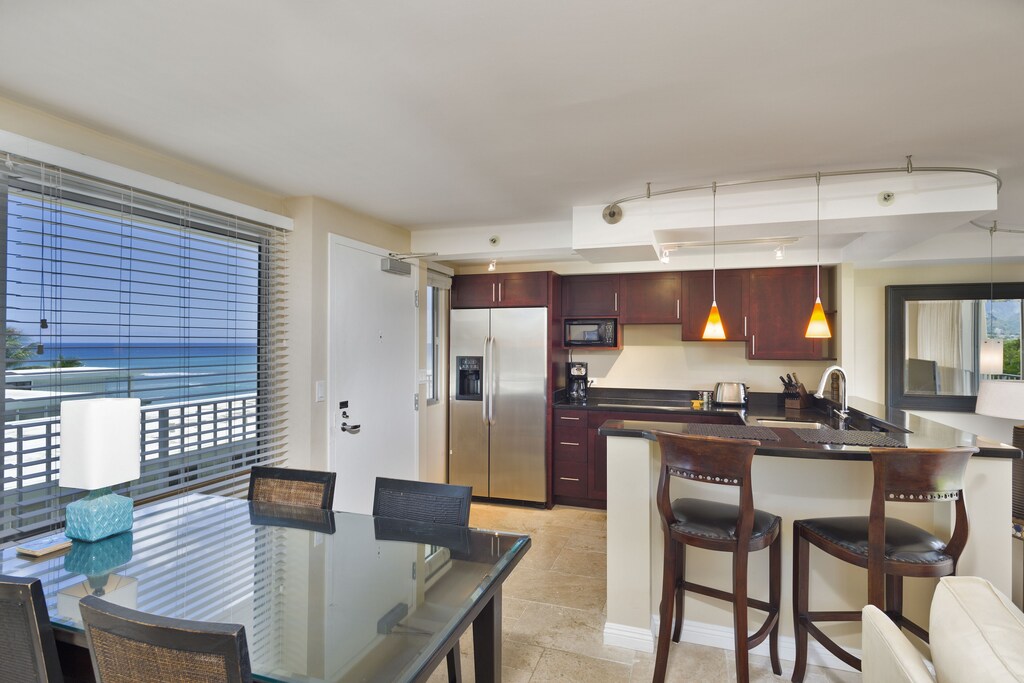 Bask under the sun on the beach-facing patio, and catch a glimpse of a green flash during sunset, if you are lucky! There are chaise lounge chairs for you to relax outside. There is also a dining arrangement outside, so you can enjoy a spread-out meal with your partner or family. The apartment features a very luxurious home setting, including a fully equipped kitchen with a countertop and a seating area, a spacious living area with a huge flat-screen TV and a phenomenal view of the ocean from all of the rooms. The apartment is air-conditioned and has parking facilities available on the premises.
OCEANFRONT | MODERN | CLEAN | 1-Bdrm PLUS Den | PRKG Included!
The 20-storey Colony Surf on the Gold Coast is close to the base of Diamond Head Volcano and located opposite to Queen Kapiolani Park. While the neighbourhood is quiet, lively Waikiki is only a few steps away. The apartment on the eighth floor does not fall short of affording a splendid view of the ocean and the volcano. The bedroom has mahogany furnishings, including an armoire with drawers. There is a separate workspace, a living area with a stereo, a DVD player, a TV and a designer kitchen. Colony Surf also includes a French restaurant, a private sandy beach and two boutique hotels.
Breathtaking Ocean View Apartment on the Beach

Accommodates: 2
Minimum Nights: 30
Refund Policy :

E komo mai Hawaii
Go on hiking trips or swim under the sun, choose what you may. However, while it is very important to enjoy to the fullest the destination that you're touring, it is equally important to find the perfect place to stay during your holiday. Make every moment of your stay count and check out these amazing Vrbo accommodations.
Disclosure: Trip101 selects the listings in our articles independently. Some of the listings in this article contain affiliate links.
Get Trip101 in your inbox
Unsubscribe in one click. See our privacy policy for more information on how we use your data