Sydney is the largest and most populous city in Australia and the continent of Oceania. The area is large and the city expands for miles outwards, with most of the people in the state of New South Wales living in Sydney. Before the arrival of Europeans, indigenous people have been living in the area for over 30,000 years. By 1788, the first Europeans established a colony here. This is a major world city with iconic landmarks, amazing nightlife, delicious international food, and some of the best beaches in the world. Of course, no trip to Sydney would be complete without a visit to Sydney Opera House, one of the most recognizable buildings in the world. Located in Sydney Harbour, this venue plays host to all kinds of performing arts and shows and is a UNESCO World Heritage Site. Here is a guide to Sydney Opera House.
Things to do
Sydney Opera House is much more than just a performing arts venue. Daily activities and shows are available for kids as well as adults, and even locals can probably find something new to discover during their visit.
Backstage tour
Tours range anywhere from a quick, half-hour tour to something longer like a couple of hours. If you have the time to take their backstage tour then definitely check it out. The tour starts at 7 am and runs for two and a half hours. Starting at the stage door entrance, you'll get an all-exclusive view of how a show operates and what it takes to make a performance go smoothly. The tour ends in the green room backstage, and there's plenty of cool photo opportunities in between.
Taste of the Opera House tour
For all the foodies out there, this tour is for you. Sydney is one of the most culturally diverse cities and that is reflected in the food culture here. The tour only operates on select days so make sure to plan ahead of time, as it generally happens only once a month. Start the tour at the Opera Bar and enjoy a signature cocktail followed by a light snack on the concourse, lunch by the port side, and dessert at the luxurious Bennelong Restaurant.
Badu Gili
If you don't have a lot of time and you're just dropping by, or if you're traveling on a budget and looking for an event that is light on your wallet, then check out Badu Gili. The event is a nightly light show at sunset then again at 9 pm. Meaning 'Water Light' in the language of the Gadigal people, this free event tells the story of the First Nations in a spectacular light projection.
What to eat
Opera Kitchen
Whether you're looking to splurge or you're looking for something fast and affordable, the in-house Opera Kitchen is there to serve. Featuring more than 60 dishes from Asian-inspired poke bowls to delicious burgers and sliders, this eatery has a dish for any budget. Have one of their tasty sandwiches or salads and wash it down with your choice of drinks. Make sure to bring your camera, because the views from Sydney Harbour are the second-best thing about dining here.
Portside Sydney
Looking to catch a quick bite to eat or settle down for a romantic evening after a show? Portside Sydney is the place to be, and it is complete with amazing views of Harbour Bridge and Circular Quay in the distance. Their menu is a la carte and offers some simple yet delicious items as well as a kid's menu. You can also pop in after a show and grab some dessert and coffee.
Bennelong Restaurant and Bar
Known as one of Australia's best restaurants by the New York Times, Bennelong is named after an Aboriginal interlocutor whose hut was built in this area long ago, and it was allegedly a place for feasting and celebration. The awe-inspiring, cathedral-like interior is a testament to the building itself. One of the most iconic Australian landmarks, this restaurant serves some delicious a la carte menu items like squid shiitake noodles and crisp confit duck.
Things to buy
No trip is complete without bringing back home some souvenirs and collectibles. Luckily, as one of the country's most recognizable landmarks, there are plenty of Opera House-themed goodies to buy here.
Key chains
Simple, elegant, and they won't take up much room in your luggage. Pick up a few Sydney Opera House key chains in a variety of different styles, from 3D prints to sets featuring Harbour Bridge. Every time you look at your keys, you'll think back on your trip to this city.
Mugs
Bring back a collectible mug with the shadow of Sydney Opera House, or perhaps one featuring the city skyline in the background. Australia is known for its amazing coffee, so now every time you make your self a cup at home, you will look back on all the tasty lattes you had in the land Down Under.
Lego sets
Sponsored as an official Lego product, you can now build Sydney Opera House yourself. A great idea for those with kids or those who are just Lego enthusiasts and want a cool souvenir of Sydney's most iconic landmark.
Travelers tips
Accessibility
Sydney Opera House prides itself on being a very accessible place for those with disabilities. There are a number of elevators and wheelchair ramps for those with movement mobility. Those holding an NSW Companion Card can also call ahead in case there is a need for assistance and to inquire about seating.
Vision and hearing
There is an option to book an audio description service for selected performances at Sydney Opera House. The commentary is live, with the help of a volunteer. For those with hearing impairment, there are several services available, including theater captioning, surtitles, assistive listening systems, and hearing loops, among others.
How to get there
Public transport
The benefit of Sydney Opera House is that it is located in a very central area. Since it is also a landmark frequented by many people, access to the site is pretty easy via public transportation. Most buses, trains, and ferries operate out of Circular Quay, which is only a six-minute walk to and from here. If you plan on spending a lot of time in the city and using public transport, invest in an Opal Card, a contactless form of payment similar to London's Oyster Card.
Courtesy bus
A courtesy bus is operated by Sydney Opera House for those who have limited mobility or for the elderly. The bus is on a first-come-first-serve basis and is wheelchair accessible.
Parking information
For those bringing a car, parking is available 24 hours a day, 7 days a week and is located at the northern end. There are over 1000 parking spots with pay machines on every level, as well as the option to pay and reserve a spot online.
Tickets can be bought online or through the box office. Different events have different costs, so be sure to check out their official calendar of events ahead of time so you can grab a spot at the next show!
Opera Performance Tickets at the Sydney Opera House

Duration: 2.5 hour
Sydney Opera House information
Sydney Opera House

Address: Bennelong Point, Sydney NSW 2000, Australia

Opening hours: Box Office: Mon - Sat: 9am - 8:30pm; Sun: 9am - 5pm

Website: Official Website

Board of Tourism Visit Sydney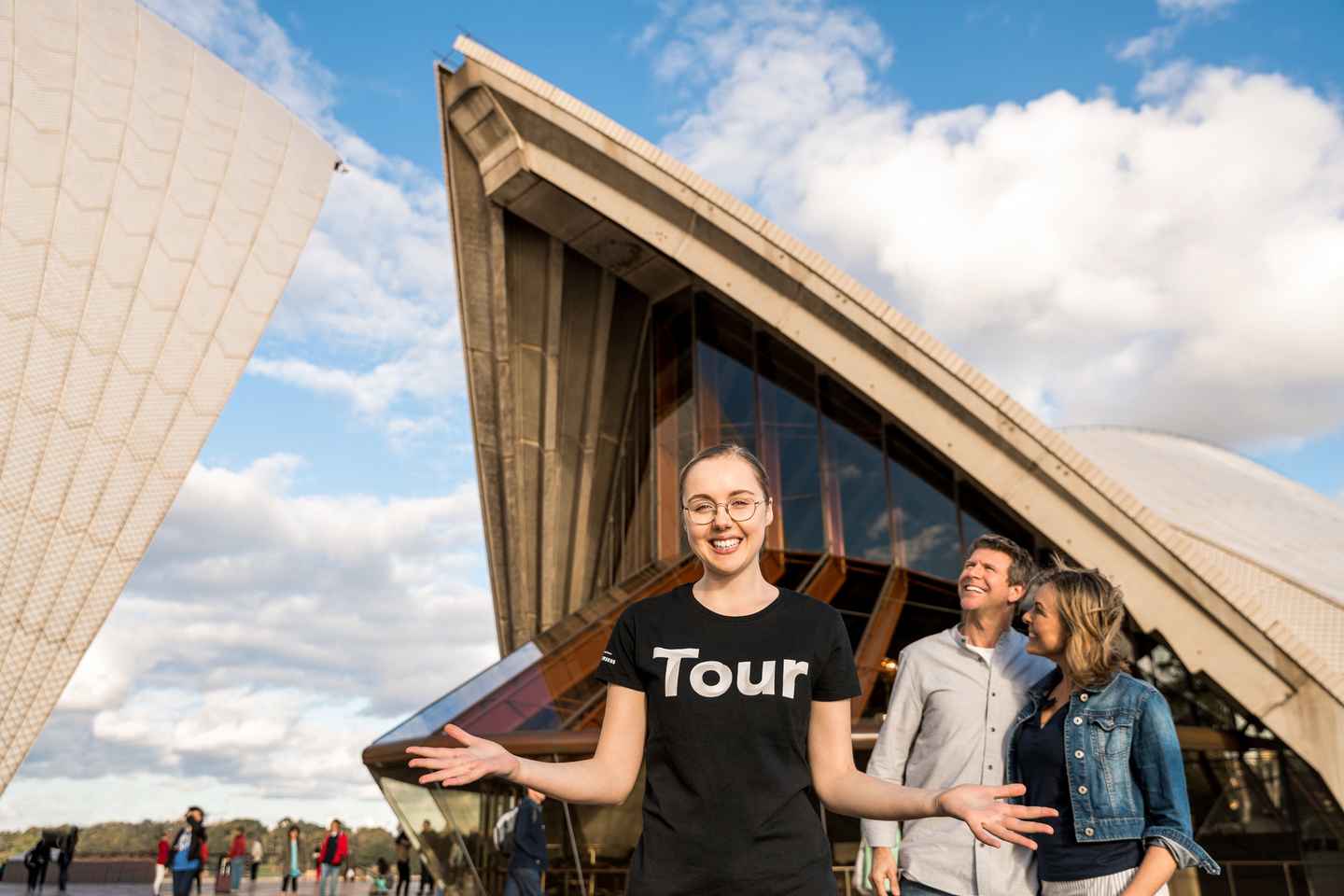 Sydney: Opera House Guided Tour with Entrance Ticket

Duration: 1 hour
Disclosure: Trip101 selects the listings in our articles independently. Some of the listings in this article contain affiliate links.
Get Trip101 in your inbox
Unsubscribe in one click. See our privacy policy for more information on how we use your data