Want an enriching and memorable vacation? Why not visit Knoxville, Tennessee? It has many nature parks such as Ijams Nature Centre where you can explore wetlands, Little River where you can go fishing and kayaking, and House Mountain, a local staple for avid hikers! Moreover, if you love adventure, you can embark on a unique adventure trail in a forest at Navitat Knoxville. If you want the freedom to explore Knoxville as you please, rent a trailer. They will be delivered straight to your campsite and can be set-up or taken down for you! Comfort and convenience are assured. Hence, read on to find out about out top picks for RV rentals in Knoxville, Tennessee, and find the one for you.
This trailer is fairly light and easy to tow. It also has a minimalist exterior and a modern interior so you will definitely be camping in style. This is suited more for smaller groups due to limited space. Nonetheless, with bunk beds, a queen-sized bed, and a fold-down bed, this trailer ensures that your comfort will not be compromised. It also has an awning and an outdoor mat if you wish to just sit outside the trailer and enjoy nature. The trailer also has a fully equipped kitchen with an oven and microwave. The RV is also well-maintained and clean.
2012 Skyline Koala
Due to how spacious the trailer is, it can sleep up to 10 people pretty comfortably. There are double-sized bunk beds, a queen bed, and a sofa. It is well-equipped with pretty much everything you will need on a road trip or a camping trip. Linens, cooking ware, coffee makers, a full kitchen, an entertainment system, air-conditioner, heater - you name it. You may also bring your pet along for the trip. The trailer also comes with an awning, a 30-gallon (113.5-litre) water tank and a 20-gallon (75.7-litre) grey water tank so you need not worry about running out of water on the road. The owner is also really understanding and patient and is always willing to guide you throughout your trip.
2015JaycoJayFlight
This trailer is perfect for large groups - whether you are going on a family camping trip or to a festival with your friends. It is large enough to be able to fit up to 10 people comfortably. Additionally, it comes with a powered awning as well as an outdoor kitchen to make your trip even more enjoyable! With a large group, hassle is definitely a great worry but this camper can is perfectly clean and organised and on top of that, delivery, set-up, pick-up, and take-down of the camper can be requested from the owner. Storage space will not be a problem either as there is plenty of room for you to keep all of your belongings and camping gear. Moreover, the owner is hospitable and will be more than happy to answer any of your queries or help you solve any issues you face during the trip.
2019 Open Range Highland Ridge
This trailer is so clean that it's basically new. It is fairly high-tech too! It has an electric jack which will make hook-up so much easier. The sliders and stabilizers can also be easily controlled with a remote control, minimising inconveniences for you. Moreover, it comes with two Smart TVs - one in the master bedroom and one in the dining area. You can now watch your favourite shows with no worries, and in comfort too. No more small screens and neck pains! It even comes with indoor and outdoor stereo as well as LED outdoor lighting so you and your loved ones can jam out in style and have your very own party!
2016 Keystone Springdale
Nearly everything in this trailer can store things. It comes with a jiffy sofa, a dining room table which also doubles as a bed, tons of cabinets in the kitchen, and even more cabinet space in the bathroom. Your storage worries will definitely be gone in this trailer. The trailer also comes with a bunk room - perfect for families! There is even an additional table for you and your loved ones to play games. Moreover, rental of the trailer also comes with an outdoor entertainment area with a mini refrigerator, a TV, a sink, and a gas stove! Thus, whether you are indoors or outdoors, you really won't have much to worry about.
~Adventures Out There~2016 Venture Sporttrek BH ** Knoxville**
If you are looking for a trailer that provides extreme comfort, you are in luck. This is it. The camper comes with Netflix, Prime TV, and antenna for you to binge watch on your favourite shows on the go. It also comes with two heated massage loungers and two rocking chairs where you can sit in comfort as you enjoy your favourite shows. Even your outdoor activities will be much more fun and convenient as the trailer comes with three camping hammocks (with suspension systems), an outdoor rug, a cooler, and an outdoor stove. The kitchen is also equipped with everything you will need for a camping trip. Delivery, set-up, and take-down can also be done by the owner upon request. All you have to do is pretty much turn up, have fun, and create amazing memories! Sounds like paradise, does it not?
2011 Dutchmen RV Aerolite 285BHGS, RV Rental in Karns, TN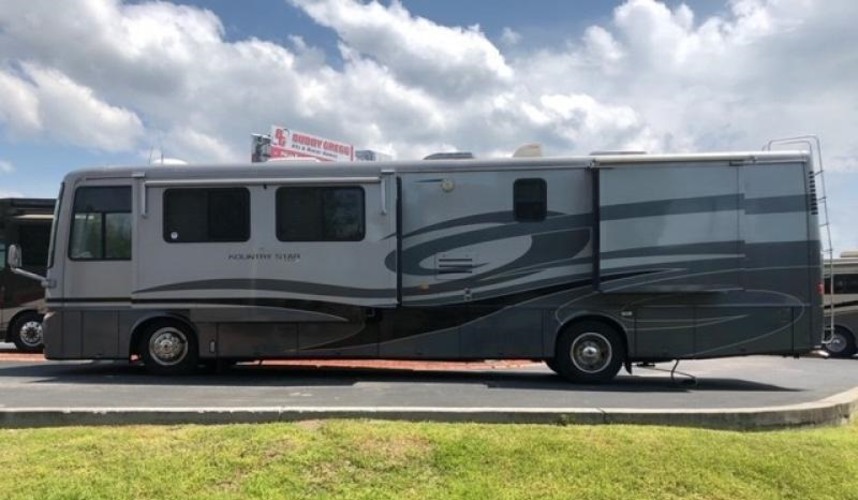 The trailer has a stylish interior and on top of that, it comes with many amazing accessories. There are indoor and outdoor showers - great for outdoor activities and adventures. It also comes with heating and air-conditioning. Hence, no matter the weather, the temperature in the camper van will be just right. There is even extra storage space underneath the camper van for you to store your belongings and outdoor camping gear! Thus, you need not worry about tripping or breaking them in the trailer. If you are planning to have a much longer vacation, fret not for this trailer comes with a washer/dryer! No more unnecessary stops for laundromats or having to bring a ridiculous number of clothing items. Everything else in a typical RV rental also comes with this one.
2005 Newmar Kountry Star
This campervan is the epitome of comfort. On top of all of the basic amenities that a trailer has, this one has a reclining chair with a heating and massage function! You will be pampered and relaxed after a long day of outdoor activities with your loved ones. You can even bring your furry friend along. As for storage space, there are extra storage compartments with sufficient space to keep all of your outdoor gear. The owner is also very friendly and accommodating so you can be sure that your trip will be a convenient and comfortable one!
2018 Grand Design Other
If it is your first time renting out an RV and want to have an outdoor-oriented trip, this really is perfect for you. The awning is powered, making outdoor set-up a breeze. It also comes with speakers underneath - allowing for better jamming sessions with your buddies. There is even an outdoor shower, propane grill, electric griddle, utility table, camping chairs, and outdoor patio mat, and the RV even comes with outdoor LED lights! It has pretty much everything you need to make your outdoor trip so much easier. Moreover, indoor accessories do not disappoint either. The RV has a furnace and air conditioning to help keep the temperature in the RV just right. This is your chance to finally have an outdoor camp with your loved ones!
2012 Forest River Sunseeker
Just from the visuals alone, this trailer oozes with great comfort. With such an adorable decor and tons of soft pillows that come along, your trip will definitely be a very relaxing and rejuvenating one. After all, who says a road trip or a camping trip has to be an adventurous one? The owners will even deliver it right to your campsite and also do the set-up and/or take-down if you wish them to! There are even privacy curtains which you can draw across the windows, allowing you to relax and have peace of mind in your sleeping area. It sounds really amazing, does it not? Why not give yourself this much-needed break and take a short, relaxing trip with your loved ones? After all, who can resist such an aesthetic and comfortable trailer?
2010 Palomino Popup. Delivery/Setup can be Included.
Explore the beautiful countryside in comfort
Whether it's your first time renting an RV or not, you won't have to worry about much with these RV rentals. Everything is meant to make the entire process so much easier and convenient for you. This is to allow you to focus and enjoy yourselves to the fullest instead. So why not embark on your journey in Knoxville, Tennessee in comfort and style? There's only so much to gain!
Disclosure: Trip101 selects the listings in our articles independently. Some of the listings in this article contain affiliate links.
Get Trip101 in your inbox
Unsubscribe in one click. See our privacy policy for more information on how we use your data