Set in Australia's tropical north, Cairns is famous as a coastal gateway to one of the wonders of the natural world - the Great Barrier Reef. Away from the coast, and such stunning sandy beaches as Palm Cove, you'll also find some impressive rainforest ecosystems and national parks to explore - and even historic train journeys from which to admire the scenery. But what other charms await you during a visit to this coastal Queensland gem? Well, from adrenaline-fuelled pursuits like white-water rafting and tandem skydiving to the majestic calm of experiencing a sunrise in a hot air balloon, there is much to see and do if you cast your net a little wider than simply sightseeing fun. So read on for some of the non-touristy things to do in Cairns, Australia.
1. Pick up a bargain while exploring the night markets
Whether you're at home or travelling, who doesn't appreciate a little retail therapy every now and again? Let's face it though, there's something extra special about perusing unusual shops and markets while on your travels - with their unique wares and items proffering the chance to pick up a truly special memento. And The Night Markets and food court in Cairns will certainly give you plenty of food for thought. Stalls include everything from glassware and silver to vibrantly-coloured beach towels and even didgeridoos. What's more, as the name suggests, these stalls are open until late at night, giving you the chance to slot in a visit after a busy day of sightseeing, or possibly combine a meal in the food court with a little relaxing shopping.
Cairns Night Markets

Address: 71-75 The Esplanade, Cairns City QLD 4870, Australia

Website: Cairns Night Markets

Opening hours: 4:30pm - 11pm (daily)

Price: Free entry
Speaking of natural marvels, the Atherton Tablelands, which can be accessed to the north of Chillagoe via Herberton, is another destination which will surely prove appealing to fans of the landscape and wildlife. These highlands feature a mix of different environments - from savanna to rainforest - and feature a range of impressive sights such as towering rocky escarpments and beautiful waterfalls. Indeed, the likes of the Millaa Millaa Falls is a particularly popular spot with photographers for obvious reasons. And keep those cameras handy, as the Tablelands are home to all manner of iconic species - including wallabies, kangaroos and a host of birdlife.
Atherton Tablelands Rainforest by Night from Cairns

Duration: 8 hours 30 minutes
And if you find yourself inspired by the landscape of the Atherton Tablelands and want to experience them from a loftier perspective then you'll almost certainly want to check out this hot air balloon tour. Early-morning flights of 30 minutes and an hour are available, as you gently ascend above the Tablelands to experience the breaking sun illuminates the landscape below you. Those who opt for this tour will also be given a free commemorative flight certificate to treasure long after your return home. And there's commentary from your pilot and guide, who will point out points of particular interest amid the rolling hills below. What's more, there's a pick-up and drop-off service from a number of hotels in the area - so you shouldn't have any difficulty getting to your balloon flight.
Hot Air Ballooning Tour from Cairns

Duration: 4 hours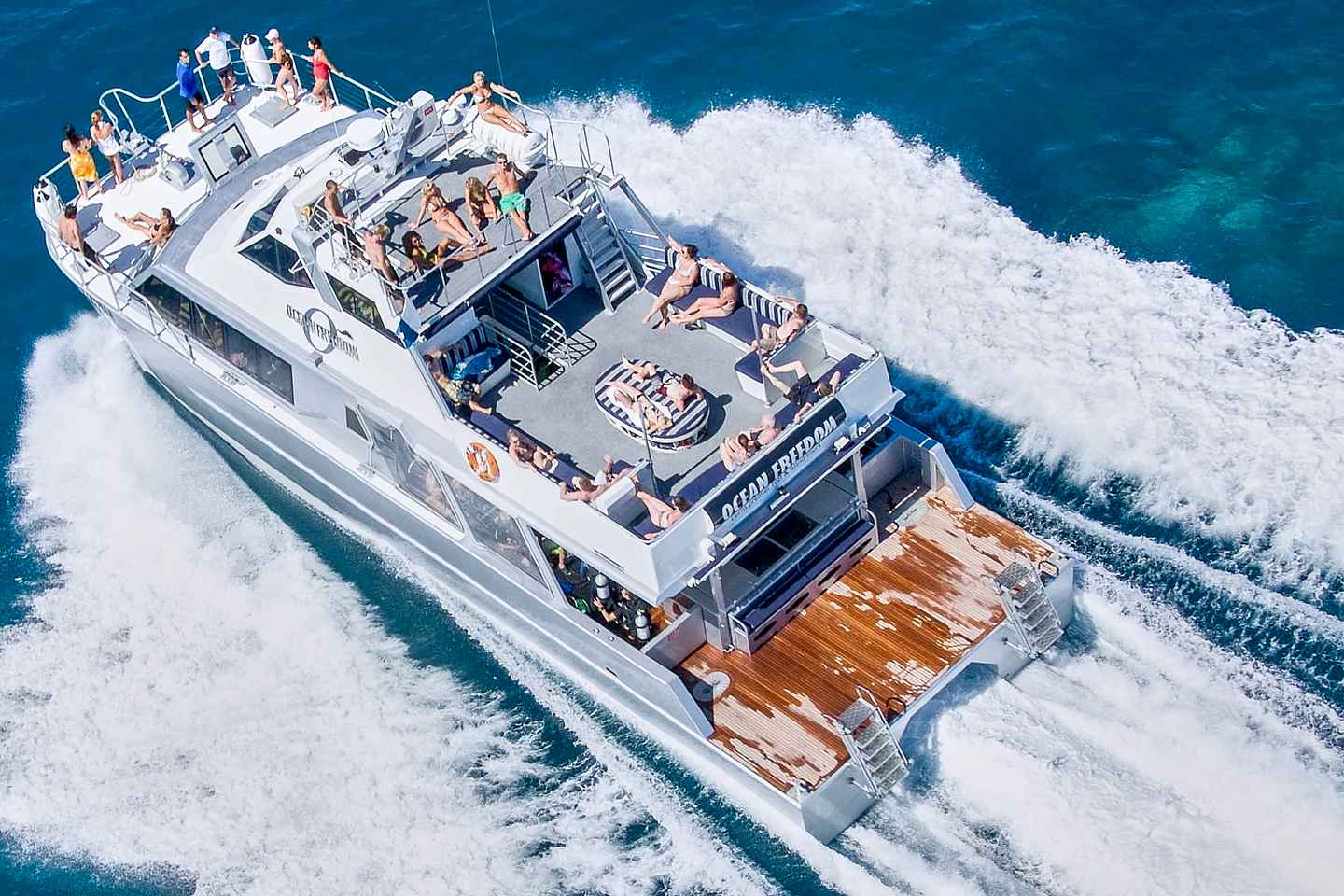 One of the biggest natural wonders on earth now, this two-stop, one-day cruise will offer a unique perspective on the majestic Great Barrier Reef. This underwater marvel - which is visible from space - stretches for more than 2300 km (1400 miles) along Queensland's east coast. And this tour gives you the perfect chance to explore one of its uncrowded sections. Whipping across the sea in a 20m (66ft) luxury catamaran, you'll visit the beautiful Upolu Coral Cay Reef, where you'll be able to observe stingrays, damselfish and other species from a glass-bottomed boat or get even closer by snorkelling in the turquoise waters. Later in the day, you'll also visit a second dive and snorkel location at Wonder Wall. And mixed in during your travels and snorkelling experiences, you'll also be able to tuck into a hearty platter lunch.
Cairns: Outer and Coral Cay Snorkel and Dive Cruise

Duration: 1 day
Another pastime that will appeal to all the adrenaline junkies out there. The Cairns area is home to skydiving experiences such as this tandem jump which is suitable for even complete beginners. After a safety briefing, you'll jump from 15,000 ft (4600 metres) up, attached to an experienced instructor, who will look after the technical stuff while you marvel at the view of the rainforest and the Great Barrier Reef below you. At the end of your trip, you'll also receive a personal skydive certificate to treasure when you get home.
Reef and Rainforest Tandem Sky Dive in Cairns

Duration: 3 hours
It's a bit of a trip to get there but Chillagoe, some 215 km (134 miles) west of Cairns, is one that will appeal to fans of natural marvels. Chillagoe's spectacular limestone caves and caverns are dotted with stunning stalagmites and stalactites, while the Chillagoe-Mungana Caves National Park is also home to protected aboriginal paintings. The caves are also home to an array of animal species - including five different types of bat, spotted pythons, spiders and insects. Impressive natural marvels you'll be able to experience in the park also include the surreal sight of Balancing Rock and the memorable stalactite 'chandelier' that hangs from the roof of the Trezkinn Cave.
Chillagoe Caves and Outback Day Trip from Cairns

Duration: 11 hours 30 minutes
Sticking with the watery theme now, those seeking adventure thrills will likely want to consider this white water rafting experience on the Tully River. Adrenaline junkies will be well catered for, with the tour passing through roughly 45 sets of rapids over the course of 5 hours - some of which are up to grade 4 difficulty. You'll traverse such evocative rapid names as the Stair Case, Theatre, and Alarm Clock. And all the while you'll be amid the World Heritage backdrop of the Tully Gorge National Park rainforest. During the trip, there'll also be a riverside barbecue next to the Ponytail Falls - giving you the chance to recharge those batteries and enjoy the landscape.
Tully River White-Water Rafting Full-Day Tour from Cairns

Duration: 12 hours
This two-to-three-hour tour experience offers another memorable way to explore and experience the rainforest and mangroves outside Cairns. Suitable for beginner quad bike riders, this guided tour includes a safety lesson and guide on how to operate your all-terrain vehicle, before you spend around two hours travelling along dirt trails through sugarcane fields and into pockets of mangrove and rainforest. Past riders hailed the "fantastic fun" and the "tons of dirt flying" past as you whisk yourself around the trail. You'll also be able to enjoy teas and coffees and, as with a number of other tours on this list, a hotel pick-up and drop-off service is provided too.
ATV Quad Bike Tour from Cairns

Duration: 3 hours
An exhilarating way of experiencing northern Queensland's natural wonders awaits those travellers who opt for a visit to Daintree Rainforest. Jungle Surfing Canopy Tours and Night Walks' award-winning zipline experiences whisk you high above the rainforest floor via a unique 'hamster-wheel' lift, before offering fine views of the forest, as well as taking you past the gurgle of streams and ultimately reaching the coast and the Great Barrier Reef. Various tours are available, with the standard one lasting two hours - roughly an hour of which will be spent high amid the leafy canopy. And whatever time of the day you visit you're likely to be conveniently placed for the next tour, as there are up to 12 per day.
Daintree Rainforest Zipline and Wildlife Habitat Day Trip
No visit to Australia is complete without experiencing a little of the indigenous Aboriginal culture. This three-hour evening showcases some of the rich and vibrant cultures of the Tjapukai people, who will host a range of dance performances and interactive activities for you to enjoy. Aboriginal cultures' famous oral histories also come to the fore, with your hosts sharing stories from the rainforest while you sit by the campfire. The evening also includes a buffet dinner and optional hotel pick-up and drop-off service - meaning you should have no difficulty getting to and from your accommodation.
Tjapukai Aboriginal Culture Night Tour with Dinner from Cairns

Duration: 3 hours
So much to see and do
From sedate ballooning experiences high above the Tablelands and mesmerising barrier reef snorkelling to adrenaline-fuelled skydives and white water rafting. There is plenty to see and do during a visit to Cairns and the north tropical rainforests of Queensland, Australia. What will you choose to do?
Disclosure: Trip101 selects the listings in our articles independently. Some of the listings in this article contain affiliate links.
Get Trip101 in your inbox
Unsubscribe in one click. See our privacy policy for more information on how we use your data