There's a common tendency, especially among "Westerners", to look at the Middle East with fear and contempt. The whole region is regarded as having nothing much to offer but conflict, destruction, and sand. Despite the stereotypical prejudices, this area was historically known as Mesopotamia or the "Fertile Crescent", to identify a particularly fecund soil traversed by two rivers. As if that wasn't enough, historians have also baptized the region as the "Cradle of Civilization" where the first urban settlements and important technological advancements were recorded. This area roughly spans modern-day Iraq but also covers parts of Syria, Turkey, Lebanon, and Israel. And if one struggles to supersede the cultural and religious differences, why not start with liberal Lebanon? A move that could help ease into a world that has so much to offer, from history to food. Go on and read about the top things Lebanon is famous for.
1. Jeita Grotto
12 miles (20 kilometres) north of Beirut is the stunning Jeita Grotto. Situated in the Nahr al-Kalb valley, the Grotto consists of two interconnected caves. Visitors have access to both the upper and lower grotto, for a total area of circa 5 mi (9 km). The upper grotto can be visited on foot: you'll cover a short stretch of cave surrounded by impressive limestone formations. The lower grotto is partially submerged in crystal clear water; as such visitors are taken on a truly magical, albeit short, boat trip.
Jeita Grotto

Address: Valley of the Dog River, Keserwan, Bayrut, Lebanon

Website: Jeita Grotto

Opening hours: Tue - Sun: 9am - 5pm (closed on Mon)
2. Nightlife
You may not know it but Lebanon - and its capital, Beirut, in particular, - is renowned for its vibrant nightlife. The city's undeniable allure does its absolute best during the mild summer evenings when rooftop bars and clubs come to life, opening their terraces and dance halls to fun-seeking customers. If in doubt, ask the locals for recommendations. Rest assured that you'll be nothing short than spoilt for choice! Whether you're planning to dance all night to electronic vibes, enjoy a cabaret night in a dimly lit, unglamorous bar, or simply chill on a comfortable sofa while sipping alcohol-infused libations with the city's lights glimmering all around you, Beirut is the place to be!
3. History
Lebanon has a long, long history of foreign rulers: Canaanites, Phoenicians, Egyptians, Babylonians; even the Persians, the Greek and the Romans managed to take a turn in ruling the land. Several Muslim dynasties were next in retaining control of the country during the Middle Ages. Enter the French, at the beginning of the 20th century, who kept Lebanon under their colonial yoke for over 20 years until 1943 when a democratic republic was finally proclaimed. Signs of this "vivacious" past are found everywhere: from temples to tombs, from castles to ports.
4. Tyre
Developed on a stretch of flat land that juts out into the Mediterranean Sea, Tyre's history is steeped in mythology. The birthplace of legendary Queen Dido - later founder of the combative Carthage, - Tyre, as a whole, was added to the list of UNESCO's World Heritage Sites in 1984. Roam around the ancient necropolis that dates back to the Byzantine and Roman era, for a full immersion in history. Around the ruins, the temperature can get scorching hot. To flee such an inhospitable environment, run to the nearby beach for a refreshing dip into the Mediterranean water.
5. Byblos
A little over half an hour's drive north of Beirut lies the ancient seaport of Byblos. Once you reach the historic town, drive past the long, public beach and the fancy resorts, and make sure to pay a visit to the vast, open-air archaeological site. A melting pot of ruins and relics dating back to Greek and Roman times, the site also offers splendid sea views.
A full-day tour will take you from Beirut to the first stop, Bsharri, located in the Qadisha Valley - or "Holy Valley" in Lebanese. Yet another UNESCO's World Heritage Site, the valley is famous for its Christian churches and monasteries. Before a delicious, traditional "mezze" (small dishes) lunch and well before setting out to explore the important Monastery of St. Anthony, visitors will be guided through the narrow streets of the town and along the corridors of the Gibran Museum. The latter is dedicated to Lebanese artist and poet, Khalil Gibran, to his creativity and his genius. Last stop of the day is an area east of Bsharri: a true oasis in an otherwise arid and deserted area. It's a small cedar forest where these majestic trees - a symbol of the country - still survive and are the last testimony of the vast and thriving forests that once inhabited Mount Lebanon.
Cedars of Lebanon, Qozhaya, and Bcharre Day Trip from Beirut

Duration: 9 hours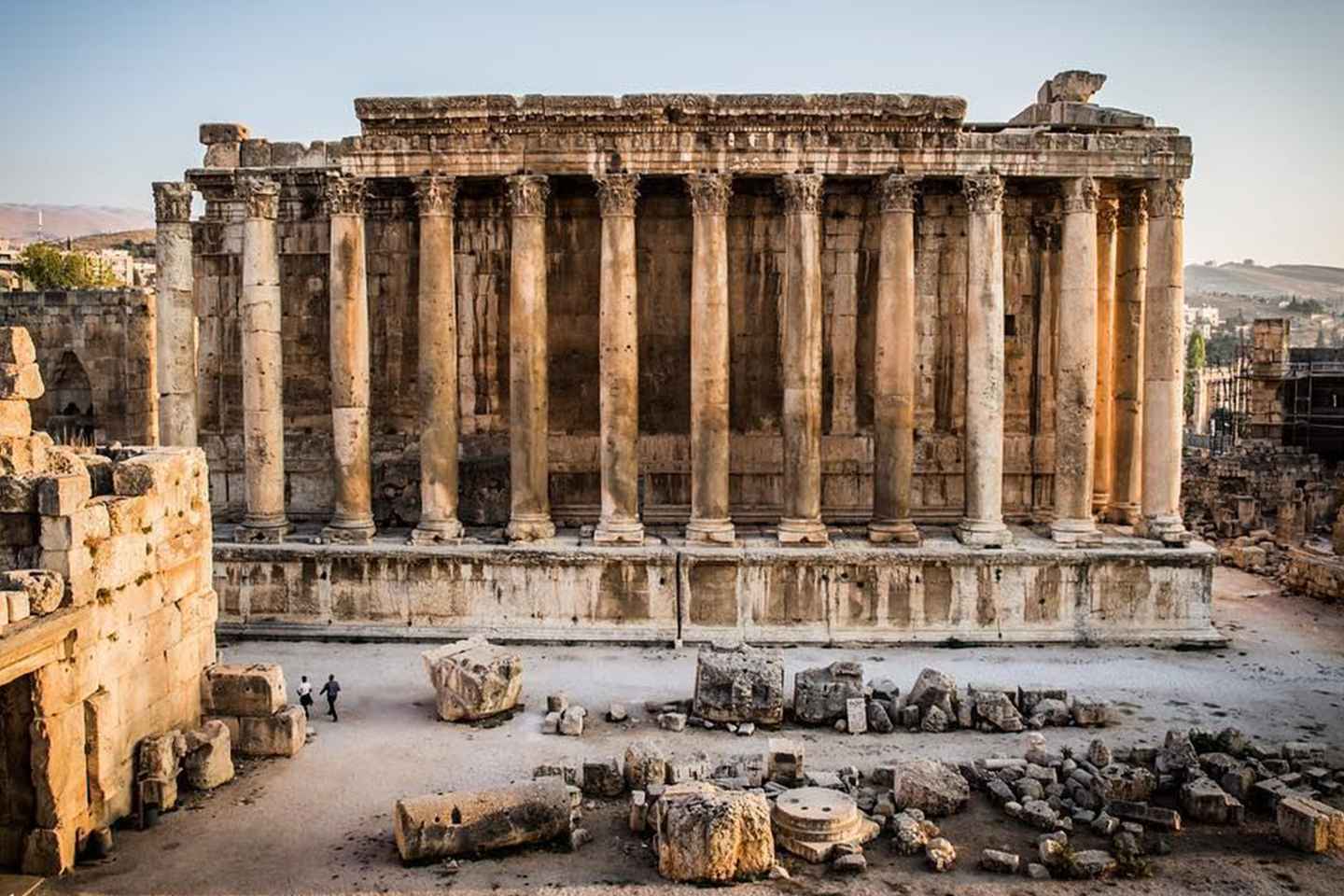 Embark on a tour that will take you nearly 62 mi (100 km) inland from Beirut. Your final destination, Baalbek, is a city of archaeological importance as it preserves three Roman temples dedicated to Jupiter, Bacchus, and Venus, and a nearby Roman quarry, used by the builders as a source of "fresh" limestone.
Baalbek Tour

Duration: 4 hour
Sometimes, when visiting a foreign country, it's best to hire a guide who can show you around. By booking a three-hour tour with Viator, you'll have an experienced orator explain the historical significance of landmarks and monuments about town. Included in the tour is a visit to the National Museum of Beirut, replete with archaeological finds discovered as recently as 2007.
Historical Beirut Walking Tour

Duration: 3 hours
A country full of history
Wherever you turn, there's an ancient site, a ruin, a monastery, or a temple towering high above the arid land or overlooking the blue Mediterranean. Lebanon has a rich past, indeed. But that's not all it has to offer. Consider a refreshing dip in the sea, treat yourself to some succulent traditional food, and enjoy a sweet cocktail at a romantic rooftop bar.
Disclosure: Trip101 selects the listings in our articles independently. Some of the listings in this article contain affiliate links.
Get Trip101 in your inbox
Unsubscribe in one click. See our privacy policy for more information on how we use your data