Referred to as Teatro Alla Scala by Europeans, La Scala Opera House is a lavish center for entertainment, situated in Milan, Italy. It was formerly known as Nuovo Regio Ducale Teatro Alla Scala during its first years, after its inauguration in August 1778. Built in the 18th century, it's no wonder its aesthetics boast elegance and lavishness. The opera house is a premier entertainment venue that features not only opera but also ballet and other concerts. Additionally, it houses an academy for aspiring artists, a museum on-site, and a fascinating historical archive. If you are planning to visit Milan anytime soon, and you are into the art and culture of the city, be sure to swing by this iconic venue. For your convenience, here is a guide to the La Scala Opera House. Feel free to check it out below.
Things to do / Highlights
La Scala Opera House is a great testament to Italy's vibrant art scene and its rich culture. When you get to the venue, you will be overwhelmed by its extravagant facade and its sophisticated ambiance that somehow reminds you of royals. Here, you can not only catch wonderful seasonal opera, ballet, and concert events, but it also has lots of other features that you should not miss. To guide you on your upcoming visit, remember these things to do and highlights.
Catch a live performance
La Scala Opera House is indeed one of the biggest and most popular entertainment venues in Italy. It reflects the country's love for art and its fascinating culture. Lots of tourists come to this place to catch a memorable opera performance, an exquisite ballet show, and even most-anticipated concerts. If you are planning to swing by this iconic venue, be sure to book tickets for some marvelous shows such as Romeo Et Juliet, Riccardo Mutti, Serata Van Manen - Petit, Fillarmonica Della Scala, and a lot more.
Take a course at the academy
Whether you are an artist who wants to hone your craft or someone who's just about to venture into the field of entertainment, you might be interested in taking crash courses that the Academy of La Scala Opera House offers. From ballet to music to stagecraft, and executive programs, La Scala Opera House will help you polish your skills, if not provide you with fresher insights.
Browse through the exhibits in Museo Teatrale
Not all tourists come to La Scala Opera House to catch a show, some are into the structure of the place, the history, and its hidden gems. What better way to get to know the premier entertainment venue than exploring its on-site museum? At the museum, you will be able to see a permanent exhibit and some temporary ones. Most of these displays revolve around everything about the city, cultural activities, portfolio of great artists, and other relevant artifacts.
Explore the Historical Archives
See 50,000 old photographs of the past shows and presentations that La Scala Opera House has featured since 1950 at the Historical Archives. Other than that, you'll also find discographies, casts information, synopsis, playbills, and librettos in the opera house's archives.
What to eat
Surely, a hearty meal after a memorable show at the La Scala Opera House is a good idea. Lucky for you, there are exquisite restaurants nearby the iconic venue. Here are some of them.
Il Ristorante Trussardi alla Scala
Located in Piazza della Scala, Ristorante Trussardi Alla Scala is conveniently a minute's walk away from La Scala Opera House. It features a sleek interior design with bright furnishings, and it exudes a cool and airy ambiance that will make your dining experience a lovely one. It offers excellent Mediterranean dishes that will surely make you cry happy tears.
Ristorante Papà Francesco
Featuring a charming rustic interior design with carefully curated decors, Ristorante Papà Francesco is another excellent restaurant near the opera house that you should visit. It showcases a vintage facade and a lovely fine-dining setting. Ristorante Papà Francesco is popular for its mouth-watering seafood dishes. While in the restaurant, be sure to have a taste of their mixed grilled fish, grilled king prawns, and tender-fried squid and shrimps.
12 Gatti Pizzeria
12 Gatti Pizzeria is situated in Galleria Vittorio Emanuele II. It features a simple interior design with lots of natural light coming from the expansive windows built to it. This fantastic restaurant serves delicious Italian pizzas that are made from the freshest locally sourced ingredients. More interestingly, it has a delightful terrace where you can marvel at the picturesque Milan skyline.
Travelers tips
Dress appropriately
Italians are known for dressing sophisticatedly. You'll see most people that go to La Scala Opera House are dressed their best. Some men even wear a tie when catching a show in the entertainment venue. The management implements a strict dress code. It is safe to wear casual to formal clothes. Slippers, shorts, mini skirts, and sleeveless shirts are not allowed.
Disabled-friendly
La Scala Opera House is welcoming of guests with disabilities to the point that entrance fees to the opera house are free for them and also for their companions. For blind guests who come with their guard dogs, the friendly fellow is allowed to enter the venue.
How to get there
On foot
La Scala Opera House is located in the heart of Milan. Specifically, in Piazza della Scala, where most tourist attractions, businesses, and restaurants are also located. It is easy to find and get to. The main entrance is situated in Piazza della Scala, but those who plan to visit the museum should head to Largo Ghiringhelli entrance point.
Take the subway
For more affordable transport, you can take the subway to La Scala Opera House. From your location, get a ticket that stops at Montenapoleone Station.
Hail a cab
Milan is well-trafficked with taxis, and it is easy to hail a cab in the city. If you want a hassle-free transfer to your destination, you can hail a taxi from your point.
Book an Uber
Just like most cities in the world, Uber is available in Italy, but only in Milan and Rome. Download the app, key in your location, and book an uber to fetch and drive you to La Scala Opera House.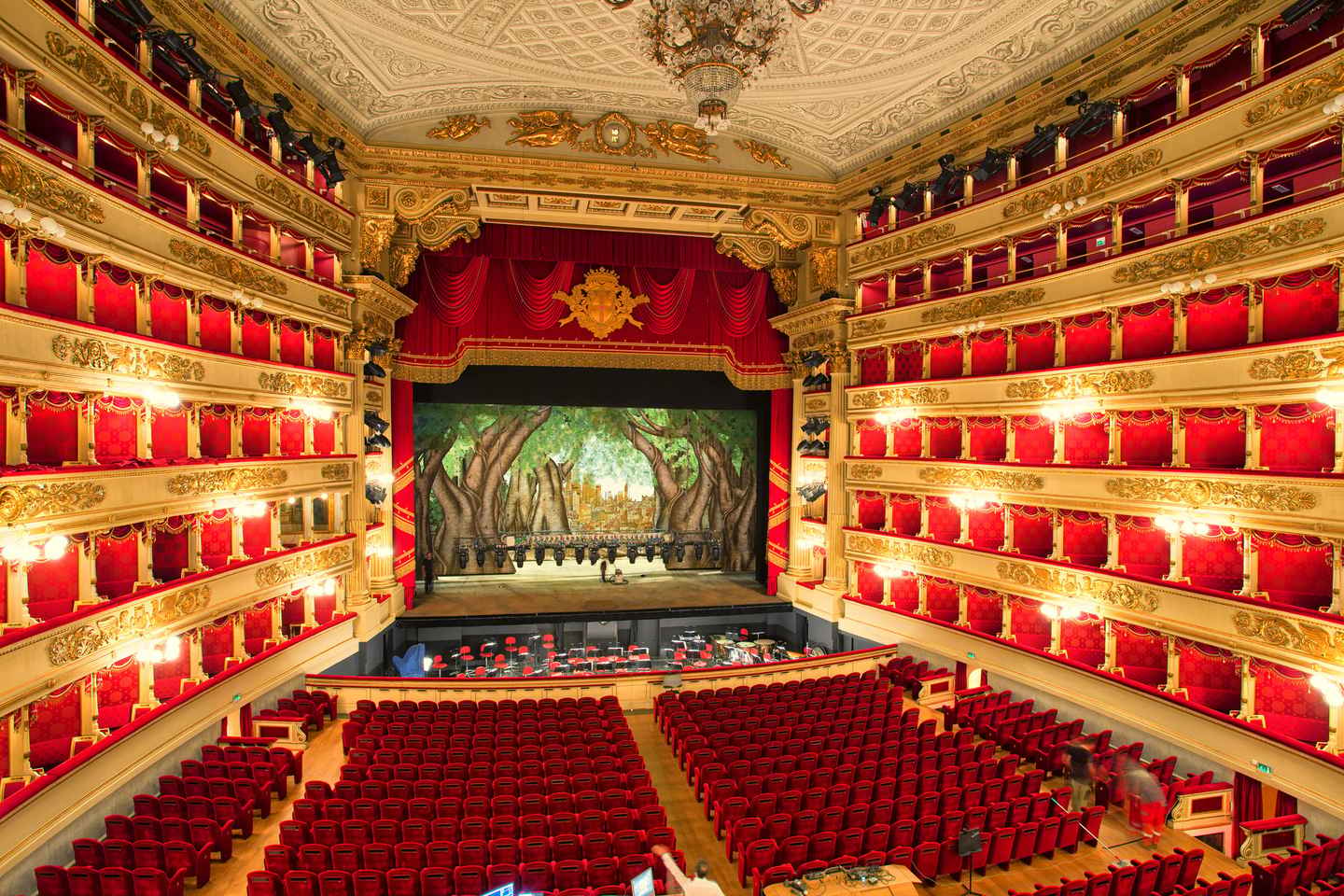 Tickets to the shows are available online in La Scala Opera House's official website. Once you've booked a ticket, you will be emailed an e-receipt in pdf format. Be sure to have it printed.
Also, for last-minute decisions, you can purchase tickets for remaining seats at La Scala Opera House's box office. Sale starts as early as the first day of the show, from nine in the morning to six in the evening.
Milan: La Scala Theatre Guided Experience

Duration: 1.5 hour
La Scala Opera House information
La Scala Opera House

Address: Via Filodrammatici, 2, 20121 Milano MI, Italy

Official website: La Scala Opera House

Department of tourism: Milan Tourism
Disclosure: Trip101 selects the listings in our articles independently. Some of the listings in this article contain affiliate links.
Get Trip101 in your inbox
Unsubscribe in one click. See our privacy policy for more information on how we use your data