Take a trip to the north of Vietnam and visit the nation's capital, Hanoi. Because of its rich culture, ancient history, and quintessential natural landscapes, Vietnam became one of the top destinations worth visiting in Southeast Asia. Particularly in Hanoi, there lie numerous historical attractions like the Imperial Citadel of Thang Long, Temple of Literature, Hanoi Military History Museum, and much more. Their scrumptious cuisine is not to be missed! With Hanoi's accessibility to the many points of interest, it is easy to get around and discover what Vietnam has to offer. Get to know the places to go and read on to find the top day trips from Hanoi, Vietnam.
1. Ninh Binh
Although this city is very small, it has a charm that makes the place worth a visit. So many things to do await you here such as visiting the Tam Coc, which feature limestone hills and beautiful rice paddies with a river in between! There are also some historical sites to see like the Phat Diem Cathedral (known as the Vatican of Vietnam). The place holds the rich culture of Vietnam, including delectable cuisine. So go ahead and find out more things to do in this lovely city.
Ninh Binh

Address: Ninh Bình, Vietnam

Opening hours: 24 hours (daily)
2. Cuc Phuong
Another great place to visit in the humble province of Ninh Binh is Cuc Phuong National Park. This is the first national park in Vietnam and it is also the largest natural reserve in the country. Because it is left to bloom on its own, the flora and fauna even of the ancients had been restored naturally. The old trees here still stand tall and the vines freely surround the area. Fresh air is what awaits you here! Take a leisurely walk and feel an intimate experience with nature at this beautiful natural park.
Cuc Phuong

Address: Nho Quan District, Ninh Bình Province 432857, Vietnam

Website: Cuc Phuong

Opening hours: 8am - 6pm (daily)
Many places in Vietnam are gaining popularity for their beauty and UNESCO-approved attractions. Halong Bay is one of those areas and that is because of its captivating views and thousands of limestone islands. Feel the island vibes and breathe in the fresh air at this well-preserved natural wonder. Walk into the caves and get a refreshing view of the waters. The full-day trip comes with seafood lunch and a friendly tour guide who will be there to answer your queries. Kayak through the gorgeous emerald waters at Halong Bay!
Halong Bay Day Trip from Hanoi

Duration: 1 day
4. Trang An
Vietnam has been recognized for its natural beauty and it shows – many of the country's areas hold titles as a UNESCO World Heritage Site! One of which is Tràng An, at the Ninh Binh Province. In this place, expect a one-of-a-kind boat tour. Instead of merely seeing the vast sea, you will witness beautiful verdant plains, hills, and caves. You would surely not want to miss this, as the views are fantastic. Take your camera for snapping a shot of this scenic place.
Trang An

Address: Tràng An, Ninh Xuân, Hoa Lư, Ninh Bình 431995, Vietnam

Opening hours: 7am - 4pm (daily)

Price: 9 USD
5. Van Long
Van Long is a wetland nature reserve and a hidden gem in beautiful Vietnam. It is home to various primates, birds, and fish. The best activity to try here is boating and mere sightseeing, especially when overlooking the rural village of Gia Vlen. In the early morning, go for a hike in this area to discover its glory at dusk: the pleasant sight that cannot be replaced. Experience the tranquility that Vietnam brings right here at the beautiful Van Long.
Van Long

Address: Gia Viễn District, Ninh Bình Province 432269, Vietnam

Opening hours: 8am - 6pm (daily)

Price: 32 USD
6. Haiphong
Across the Cat Ba Island is Hai Phong: a major port and industrial city and the second-largest city in the north of Vietnam. It houses the French colonial-era infrastructures dated back from the 19th century, which is a must-see in the area. Religious sites like the Buddhist Temple are also here. Much has to be seen at Haiphong! Go on a road trip to go sight-seeing. Stop by interesting buildings. With modern comfort and convenience plus the preservation of history, you will get the best of both worlds in one place.
Haiphong

Address: Haiphong, Vietnam 225

Opening hours: 24 hours (daily)
7. Cat Ba Island
Located in Halong Bay, the lovely island of Cat Ba features gorgeous rock formations and panoramic natural views while still offering convenience with the availability of commercial areas - hotels, transport, resorts, and restaurants. Go on an island tour. Enjoy the pristine waters and bask in the wonderful view while feasting on some of Vietnam's rich culture. Remember to book ahead if you plan to stay in a hotel here, especially during peak seasons, between April and November. During those days, seeing crowds will not be uncommon, so it is suggested that you opt for an off-season trip to get cheaper accommodations among many other perks.
Cat Ba Island

Address: Cat Ba Island, Vietnam

Opening hours: 24 hours (daily)
8. Ho Citadel
History and heritage are what Ho Citadel, from the remote province of Thanh Hoa, offers whenever you visit. The natural site is recognized as one of the World Heritage Sites by UNESCO. Although populous, the site is unique itself, even deemed as Vietnam's unlikely UNESCO site. First is with its seemingly insignificant history (knowing the long history of turbulence in Vietnam), which only lasted for seven years. Another is the fact that it is empty - nothing but farmlands. Panoramic sights await you here. Learn the short history while admiring the natural landscapes when you visit Ho Citadel.
Ho Citadel

Address: Vĩnh Lộc District, Thanh Hoa, Vietnam

Opening hours: Mon - Sat: 8am - 5pm (closed on Sun)

Price: 3 USD
The Bac Son Valley is recognized internationally for its picturesque natural views (almost coming out of a fiction). The images itself will give you a glimpse of its glory – well-bordered verdant farmlands with a dramatic backdrop of the mountains, providing ethereal beauty especially when the sun rays make their way through the edges. Get on a comfortable trip from Hanoi and ready your camera at all times. This place is nothing short of breathtaking.
Day Trip to Bac Son Valley from Hanoi

Duration: 10 to 12 hours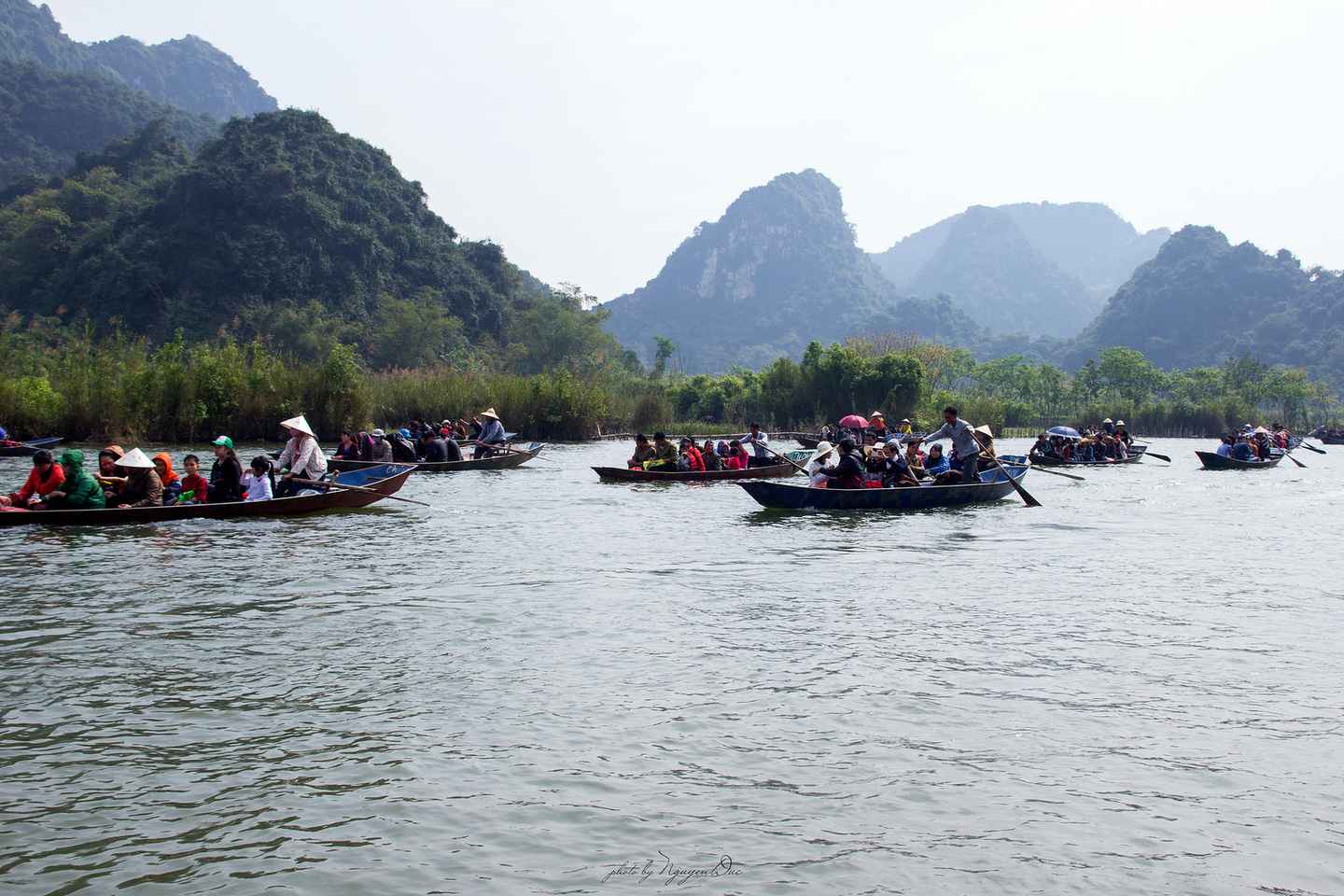 Take yourself to an informative and immersive trip in Vietnam by visiting the Perfume Pagoda – a significant Buddhist site. See wonderful natural views while enjoying a boat ride through the Yen Stream and trekking to the beautiful Buddhist temples! In this trip, you will be well-guided and informed of the fun facts to know about the place. There is a set menu lunch included in this trip too. This will take a whole day, so enjoy the moments while exploring the area!
Perfume Pagoda Day Trip from Hanoi

Duration: 1 day
The glory of Vietnam magnified
The sheer beauty of Vietnam is what you will witness on these day trips. When you go for exploration, just take a few moments of silence savoring the irreplaceable glory of its natural wonder. What's more? Most Vietnamese people are nice and friendly! Although some may be shy, don't be afraid to interact with them. You might find yourself a pal. Explore Vietnam and take in the glorious views all around.
Disclosure: Trip101 selects the listings in our articles independently. Some of the listings in this article contain affiliate links.
Get Trip101 in your inbox
Unsubscribe in one click. See our privacy policy for more information on how we use your data