There's no doubt that Cusco is one of the most fascinating tourist destinations in Peru and throughout the whole of the Americas. Yet many people fail to comprehend the vastness of this culturally rich empire. While the popular City Tour is a definite shoo-in for most visitors, the surrounding region is also filled with spectacular landscapes and impressive pre-Columbian ruins of its own, just waiting to be unpacked. Read on to learn about some of the most incredible day trips from Cusco to get a better idea of your options.
Across the Pomacanchis Lake about four hours from Cusco lies the Inka bridge of Qeswachaka. Made of reed-like grasses which are native to the area, the hanging bridge served as an important means of transport across the Apurimac Canyon and also as a security checkpoint to thwart the arrival of foreign enemies.
Every summer in June local supporters participate in the annual bridge-building festival, a project dedicated to its maintenance and restoration. The visit is usually followed by a private geological exploration and photo-op of the nearby Q'arañahui Caves.
Qarañahui Cave and Qeswachaka Bridge from Cusco

Duration: 12 hours
Perhaps too preoccupied with exploring Machu Picchu and other household names throughout the Sacred Valley, few tourists have the ancient temples and baths of Tipon on their radar, but these Incan structures are no less important, highlighting the unique ingenuity of their stonemasonry and engineering. Having preceded their arrival, the Wari people once dominated the area, and were responsible for the construction of an aqueduct and ceremonial site in nearby Rumicolca and Piquillacta.
Meanwhile, the village of Andahuaylillas (not to be confused with Andahuaylas) is home to the incredible Museo Ritos Andinos, which showcases ancient mummies, with an emphasis on local legends and Andean traditions of cranial deformation. A potential alien narrative was later incorporated after researchers classified the skulls as non-human. Thus the road to Urcos certainly encompasses some of the most wondrous, yet lesser-known sights the region has to offer. The best part? Each of these delicious attractions can be reached via crowdfunded combi buses headed to Urcos from Cusco's Avenida Huascar.
Tipon, Pikillacta, and Andahuaylillas in One Day from Cusco

Duration: 6 hours

After so much hiking and touring throughout Cusco, it's nice to have the opportunity to enjoy a bit of much needed R&R while kicking your heels up at some of mother nature's most calming natural springs. Just under three hours from Cusco in a town called Lares, can be found an ancient Incan thermal spa, complete with magically nourishing mineral water said to be useful in the treatment of rheumatism.
Lares Valley Inca Hot Springs from Cusco with Transfers

Duration: 1 day
4. Painting the town in Paucartambo
A somewhat obscure village, Paucartambo is best-known for its annual summer festival, La Fiesta de la Virgen del Carmen. Here the spirit of patrimonial revelry and debauchery takes precedence every year in mid-July, as locals and countless tourists come together to celebrate the patron saint of Peru's mestizo culture (multiculturalism).
Spread out over several joy-filled days, festivities include traditional Peruvian costumes and dancing, intertwined with Chinese-inspired processions and colorful characters meant to symbolize the arrival of the Spanish. Also, because alcohol-fueled late nights are highly encouraged, many tourists decide to organize accommodations with local citizens to make the most of their stay.
La Fiesta de la Virgen del Carmen

Address: Paucartambo, Peru

Access: 4 hours journey from Cusco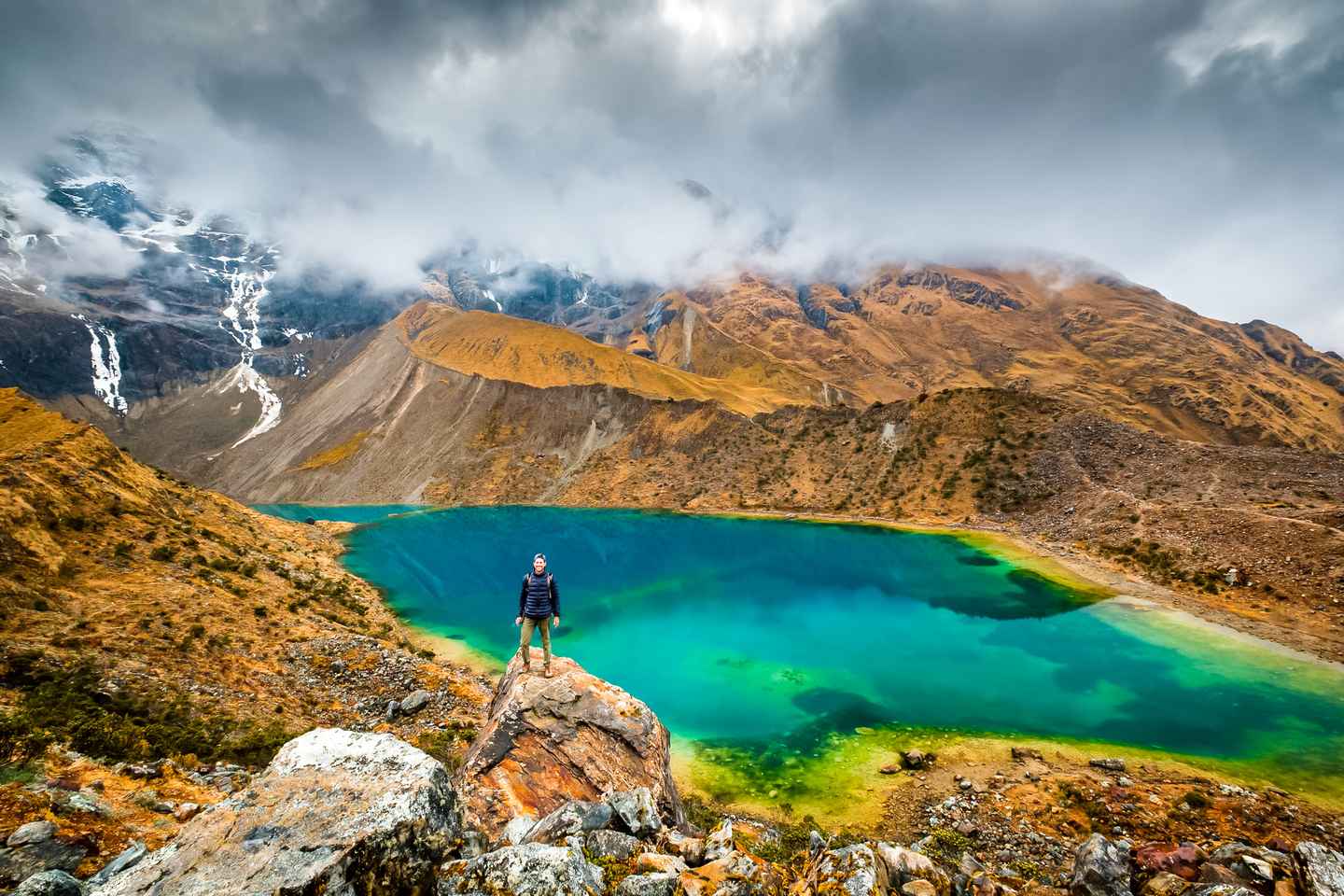 With one of the most stunning natural landscapes in the Peruvian Andes, Humantay Lake boasts unbelievable hues of blue and green. Formed when glaciers melted hundreds of years ago, the sparkling turquoise waters reflect the majestic snow-capped Humantay mountaintops. Horse riding is available around the lake. You can also observe the diverse flora and fauna that inhabit the area. If you're more adventurous, consider climbing up to the narrow ridge surrounding the lake. Upon completion, you will be rewarded with a bird's eye view of the entire landscape. You can also join the coca in a small ritual to thank the Pachamama and the Apus. It's the ultimate destination for nature lovers.
Cusco: Private Full-Day to Humantay Lake with Meals

Duration: 12 hour
6. Soak up the vibrance of Pisac
Situated in the Sacred Valley, the town of Pisac is worthy of a day-tour in its own right. Its vibrant markets have fresh produce, handicrafts, weaves, jewelry, and more. This shopping haven is the top spot for those considering to purchase some souvenirs to bring back home. There are also several other activities to enjoy here. Visitors can delight in getting up-close and personal with alpacas and other creatures. Hiking past pristine mountain lakes is also popular. Workshops such as yoga are available as well. The Inca fortress and rice terraces towering over the colonial village are a must-see too! Here, you can find an ancient sundial, temple remains, and plazas.
The town of Pisac

Address: Sacred Valley

Access: 35km from Cusco via Route 28G
This one should come as a surprise to no one considering the fact that most international tourists in the area have come specifically to set their sights upon this famed attraction; hands down the most important archeological ruin in the entire Sacred Valley. For all its popularity, though, Machu Picchu is also the most expensive day trip from Cusco. The cherished UNESCO World Heritage site can be accessed via comfortable, but touristy trains from Cusco and Ollantaytambo, or from Santa Teresa in as little as two hours on foot.
Machu Picchu in One Day from Cusco

Duration: 12 hours
The Sacred Valley Tour refers to a multi-destination trip spent exploring the one-of-a-kind villages along the Urubamba River Valley. Having once provided the ancients with the natural irrigation they needed for nourishment and prosperity, the Urubamba has been held sacred by the local people for centuries. It is also a welcomed gift from mother earth, known to the Andean people as Pachamama.
From Cusco's City center many will opt for a full day Valle Sagrado tour, stopping to see the Incan Salt Mines of Maras, the village markets at Pisac, and distinctive archeological ruins in Ollantaytambo, among so many others.
Sacred Valley Full-Day Tour with Pisac Market and Chinchero

Duration: 10 hours
The Rainbow Mountain, is a spell-binding geological site, so called for the seemingly endless rows of golden, turquoise, and rose-colored sediments that make up its majestic pattern. Located about a three hour drive southeast of downtown Cusco, this delightful Andean attraction is accessible only by foot traffic or by renting out a trusty steed for the day. However the journey there is said to be about as mystifying as the colorful formations themselves, which is why visiting with a local guide can provide better insight and attention to safety. Good trekking shoes, a canteen of water, and some altitude-fighting coca leaves are indispensable for the voyage.
Cusco to Rainbow Mountain Full-Day Trip with Hike and Lunch

Duration: 10 hours
Cusqueñan adventures await
One of the most frustrating things about tourism in Peru is not knowing which attractions to visit and how to manage time and money efficiently without traipsing back and forth to the same regional airports to discover new attractions. Such is the case within the Cusco region, where it is preferable to use buses and other forms of local transportation to cover more ground efficiently. The good news is that with careful consideration, you can select the day trips from Cusco that best meet your standards of adventure.
Disclosure: Trip101 selects the listings in our articles independently. Some of the listings in this article contain affiliate links.
Get Trip101 in your inbox
Unsubscribe in one click. See our privacy policy for more information on how we use your data