The second-largest city of United Kingdom, Birmingham is also known as the City of a Thousand Trades due to the large number of businesses based there. Hence, it is no surprise that this city is home to many of Europe's popular spots such as Birmingham Hippodrome - the UK's busiest theatre, and Bullring Shopping Centre, one of Europe's largest malls. This beautiful city also has the highest number of Michelin Starred restaurants in the United Kingdom, outside of London. There are just so many things about Birmingham that we want to share with you! If you're willing to go beyond Birmingham, nearby are a lot of great areas to explore. So read on to find out some of the best day trips from Birmingham, the UK.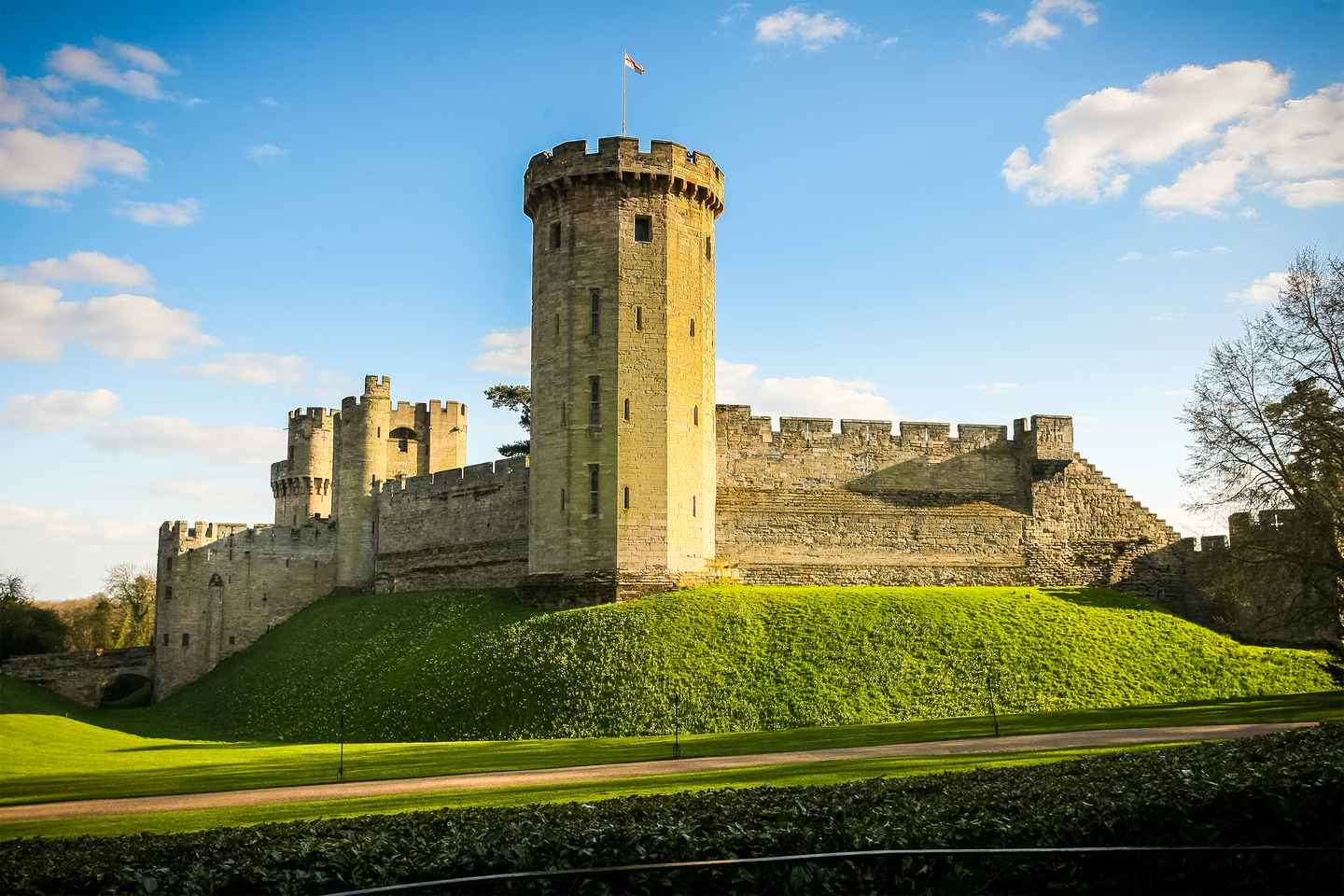 Warwick Castle is one of the most popular historical places in Europe with over 1000 years of history. Expect a series of adventures and shows that bring you through the long history of this stunning castle. Watch Europe's biggest bird show where you get to see 70 rare bird species or climb the various towers to discover the beauty of the castle as well as the magnificent view. You can also book a stay in the castle where you get to experience the life of a royal family or stay in their Knight's Village. There's just so many things you can do in the tower - a day trip doesn't seem enough.
Warwick Castle: Entrance Ticket

Duration: 1 day
2. Royal Air Force Museum, Cosford
Royal Air Force Museum allows you to explore the life of the Royal Air Force and have an understanding of those who have served in it. For those who are curious of what goes through the life and mind of those who have served the British aerial warfare force, make sure to pay this museum a visit where they share about their stories from being part of RAF. You also get to experience the thrill of flying with their newly launched 4D experience and view some of the stunning aircraft! Oh, did I not mention that it is free entry for all?
3. Black Country Living Museum, Dudley
Similar to Blists Hill Victorian Town, Black Country Living Museum aims to create a space that tells the story of the Black Country. Black Country is located at the west of Birmingham and it gained its name back in the 19th century due to the amount of smoke here from the large number of ironworking foundries then. It is also one of the very first industrialized landscapes in Britain. Look forward to hands-on experience in lock-making, exploring shops and houses that were recreated according to the past, or experiencing traditional spit-and-sawdust pubs where you can expect delectable Black Country grub! After all, a day trip is never complete without a satisfying meal.
4. Malvern Hills
Mother Nature is beautiful and breathtaking. It has its own ability to calm your anxious mind and is a great escape from our bustling city life. Spend a day walking the trails of Malvern Hills where you will be rewarded with various spectacular views depending on the trails you have chosen. Alternatively, cycle your way up or ride on a horse - whichever rows your boat.
5. Lichfield Cathedral, Lichfield
A culturally rich cathedral that is filled with art and life, Lichfield Cathedral definitely makes a fulfilling day trip as you get to come up close with the ancient artefacts and stunning architecture of the building. Its magnificent heritage will leave you in awe with its intricate details.
6. Stratford-upon-Avon
Known as the market town of England, Stratford-upon-Avon is also the birthplace of Shakespeare, where you can get to explore the house he was born in and have a deeper understanding of his life. If you're not a fan of Shakespeare and are looking at some other activities, how about glamping at unique glamping pods such as Hobbit Hut or visiting the United Kingdom's largest butterfly farm? There is so much to this beautiful town other than just being the birthplace of Shakespeare.
7. Leamington Spa
Leamington Spa, also known as the happiest place in Britain, is a casual, chic, and modern area that is packed with boutiques, restaurants, beautiful architectures, and more. It used to be popular for its spa facilities as they were seated on mineral-rich water and was awarded royal status by Queen Victoria. When you're there, don't forget to visit The Pump Room, which is used to be a spa decades ago and is now a museum. You can then go for a stroll at Jephson Gardens and River Lean, where you can expect to come across beautifully curated flowers and exotic plants.
A trip is never complete without heading to the amusement park. Home to 10 different roller coaster rides, Alton Tower Resort is an amusement park that consists of theme parks, water parks, spas, and resorts. You can also dine in the United Kingdom's first-ever roller coaster restaurant where you can watch your food being served by dropping it down the gravity-defying loops!
Alton Towers Resort 1 Day Admission Ticket

Duration: 1 day
Taking you back to the Victorian era, Blists Hill Victorian Town is an open-air museum that aims to recreate the Victorian days, an era that marks the start of a revolutionary progress. The museum is split into three districts - town, industrial, and countryside - giving you a comprehensive experience of the historical moments. So, look forward to cart rides, foundry work, photoshoots in classic Victorian costume, and traditional fish and chips cooked in beef drippings!
Blists Hill Victorian Town : Annual Passport Ticket

Duration: 1 to 362 days
Warner Bro's is definitely no stranger to many of us as it takes up such a huge part of our childhood memories. Be part of a day trip to Warner Bros. Studio to discover the making of the films where you get to experience popular movie settings such as the magical Diagonal Alley where Harry's wand chose him and Great Hall which is where the iconic scene of the Battle of Hogwarts took place. You can also come up close to the various props and costumes of your favourite films and discover the hard work that went into bringing the creatures to life on screen. A trip not to be missed for all Harry Potter fans, this definitely lets you get a sneak peek into the how these magical scenes are brought to life.
Harry Potter Tour at Warner Bros. Studio from Birmingham

Duration: 9 hours
You will come back for more
Birmingham, without a doubt, is a city that you can never get enough of. While there are many more to this world-class destination, these nearby destinations will make your trip extremely packed. Birmingham definitely makes a good base for you to start planning your itinerary!
Disclosure: Trip101 selects the listings in our articles independently. Some of the listings in this article contain affiliate links.
Get Trip101 in your inbox
Unsubscribe in one click. See our privacy policy for more information on how we use your data