Going on a guided tour through the city you're visiting is one of the best and less tiring ways to discover what it truly has to offer. If you're not very good at making your own itineraries or don't have enough time to research what you want to visit or try, guided tours are definitely essential. But if you're a foodie, the best tours you could ever choose to be part of are food tours. On this kind of tour, you are guided to restaurants, street food stalls or pubs, and you are taught about the culinary culture of the city you're visiting and even get to see some of the places tourists often miss.
Lucky for you, Lisbon is full of different options for food tours, mainly because it's a Portuguese city and Portugal means great food. Of course, if you haven't been to Portugal before, there is no way you could possibly know its food until you try it. That's why a food tour is so useful: it will introduce you to the main flavors of the country and maybe even to the less known ones. Lisbon has some of the best and most original food tours, where you can experience the Portuguese cuisine in style. Are you ready to make some decisions? Here's our top 10 best food tours in Lisbon: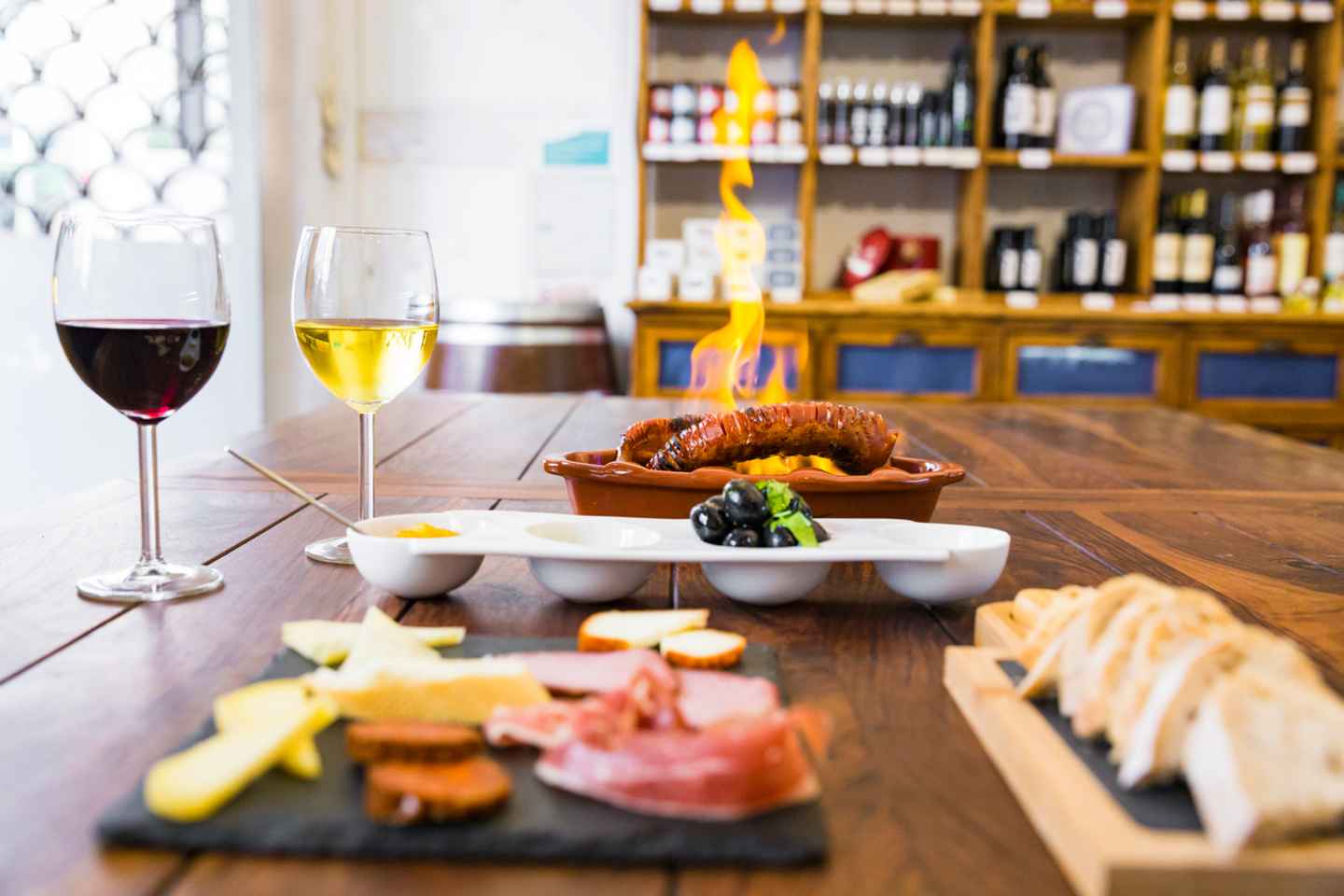 This 3-hour guided walking tour will take you on a delicious journey through Lisbon's best eateries. You'll learn about Lisbon's café culture, get tips on wine, and taste the most iconic Portuguese flavors from cheese to codfish cakes and traditional wines. This tour will help you have a true Portuguese culinary experience and show you what Portugal really has to offer.
Lisbon: Food and Wine Walking Tour

Duration: 3 hour
How does going on a food tour whilst riding a Segway sound to you? If you've never ridden one, this may be your best chance to do it because it comes with the bonus of trying different foods on the way! This tour will guide you around Lisbon's oldest neighborhoods and take you to local bars and cafés where you can try the tastiest Portuguese specialities. All the while, you'll be gliding around on a Segway! This may be the ideal tour to take on a hot summer day if you don't find the idea of walking for two hours and a half so appealing.
Lisbon: 2.5-Hour Food Tour by Segway

Duration: 2.5 hour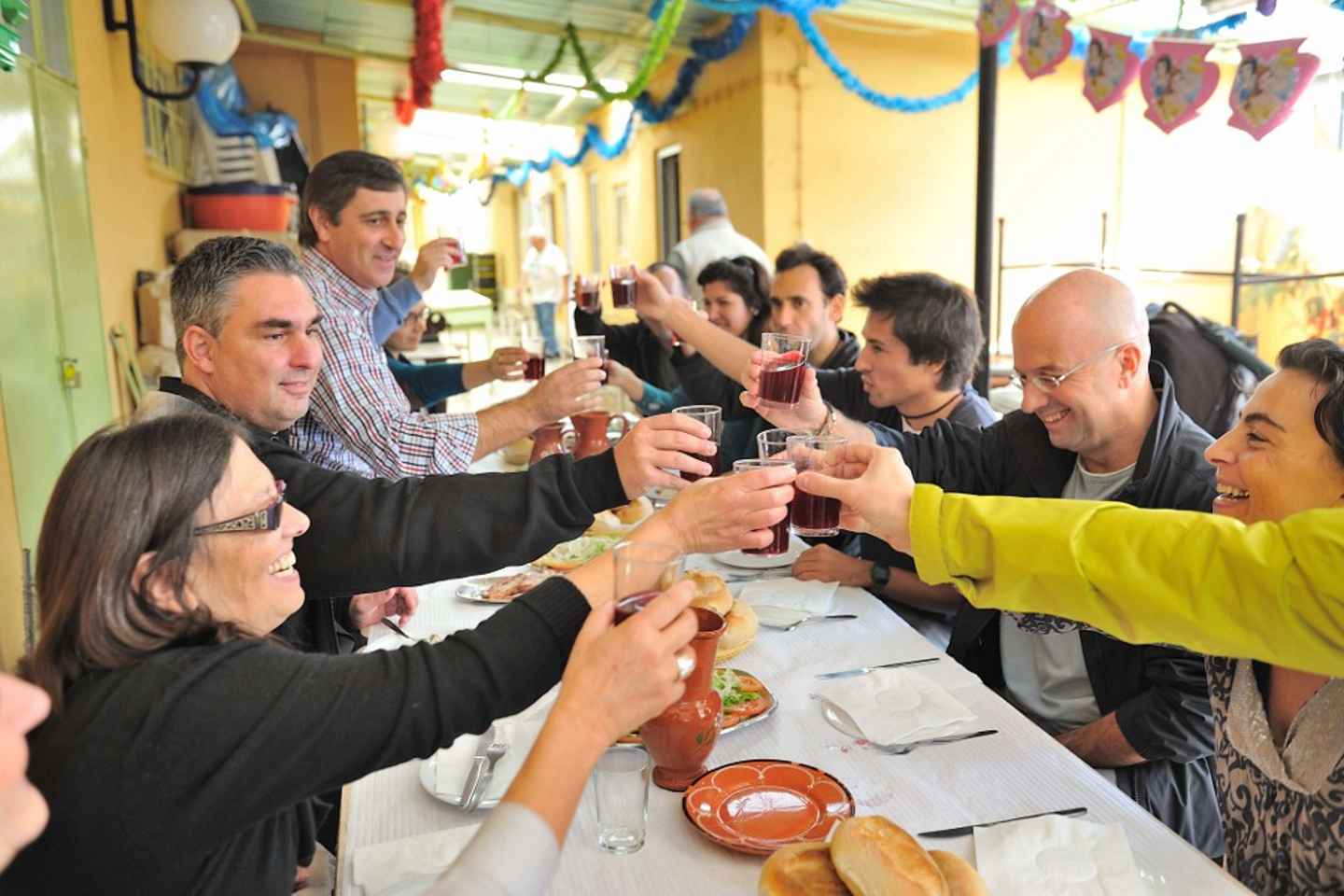 Four hours might sound like a long time, but when you're trying foods, time will go by so fast you won't even notice you've spent the whole evening walking around a beautiful city and tasting its amazing flavors. This 'Culinary Evening Walk' will guide you through an off-the-beaten track and you'll get to see the city beyond its main attractions and sample local specialities, from cheeses to meat dishes and wines. Enjoy Lisbon's twilight whilst tasting its varied and scrumptious dishes, and finish your night at the most popular nightlife spots in the city!
Lisbon 4-Hour Culinary Evening Walk

Prices: from 104 USD
Lisbon: Food and Culture 3-Hour Walking Tour

Duration: 3 hour
This 3-hour private food tour will make sure you taste the best food you could possibly find in Lisbon. It's perfect if you don't like hanging out in groups and just need a guide who knows everything there is to know about Portuguese food and can take you to the best places where you can try it. This tour will introduce you to the local cuisine and its many specialities, including traditional drinks. Taste the grilled sardines, the famous 'pastel de nata' (custard tart) and 'alheira' sausage. During your walk, you'll get to enjoy the panoramic city views and explore one of Lisbon's oldest neighbourhoods, Alfama. Who says you can't go on a private tour if you want to?
The 10 Tastings of Lisbon With Locals: Private Food Tour

Duration: 3 hours
You thought tapas was exclusive to the Spanish cuisine? Well, you're not wrong, but you're not right either. Portuguese call their tapas 'petiscos', meaning small samples of food, from cheese on toast to salads. But it's easier to say 'tapas' than 'petiscos', so no one will be offended if you ask for tapas at a Portuguese bar (hopefully). This food tour will take you on a journey through the best Portuguese 'petiscos' and you'll get to taste them whilst sipping the famous Port wine. You'll be able to explore Mouraria neighborhood and learn about its history before you stop at one of the six eateries your guide will take you to. Doesn't it sound perfect?
Lisbon Secret Food Tour - Portuguese Tapas and Port Wine w/ Private Tour Option

Duration: 3 hours
How about exploring Lisbon by foot and by ferry? This tour offers you a series of tastings as well as a ferry trip across the Tagus river. You'll walk the rest of the time but your energies will be replenished every time you stop to try seafood and pastries, whilst listening to the stories that built the Portuguese culture. Because it is a small-group tour, you'll have a more intimate experience and the chance to learn more about the city you're visiting.
Lisbon Small-Group Walking Tour with Food and Wine Tastings

Duration: 3 hours 30 minutes
Food is a very strong element in the Portuguese culture; but so is Fado. This walking tour will give you a unique experience at sunset, with a Fado show and dinner in Lisbon. Wander around Alfama's streets and hop on a vintage tram ride that will take you to vantage points where you can see the sunset falling over the city. Let the harmonious sound of Fado mesmerize your senses as you feast on a 3-course dinner.
Lisbon Private Sunset Walking Tour with Dinner and Fado Show

Duration: 4 hours
This 3-hour gourmet tour will introduce you to the finest Portuguese flavors in their every form. You'll get to enjoy an extensive wine tasting and various samples of cheeses, pastries and other dishes, whilst learning about Portugal's food and wine traditions. Another great option for those who enjoy small-group tours.
Lisbon Small-Group Portuguese Food and Wine Tour

Duration: 3 hours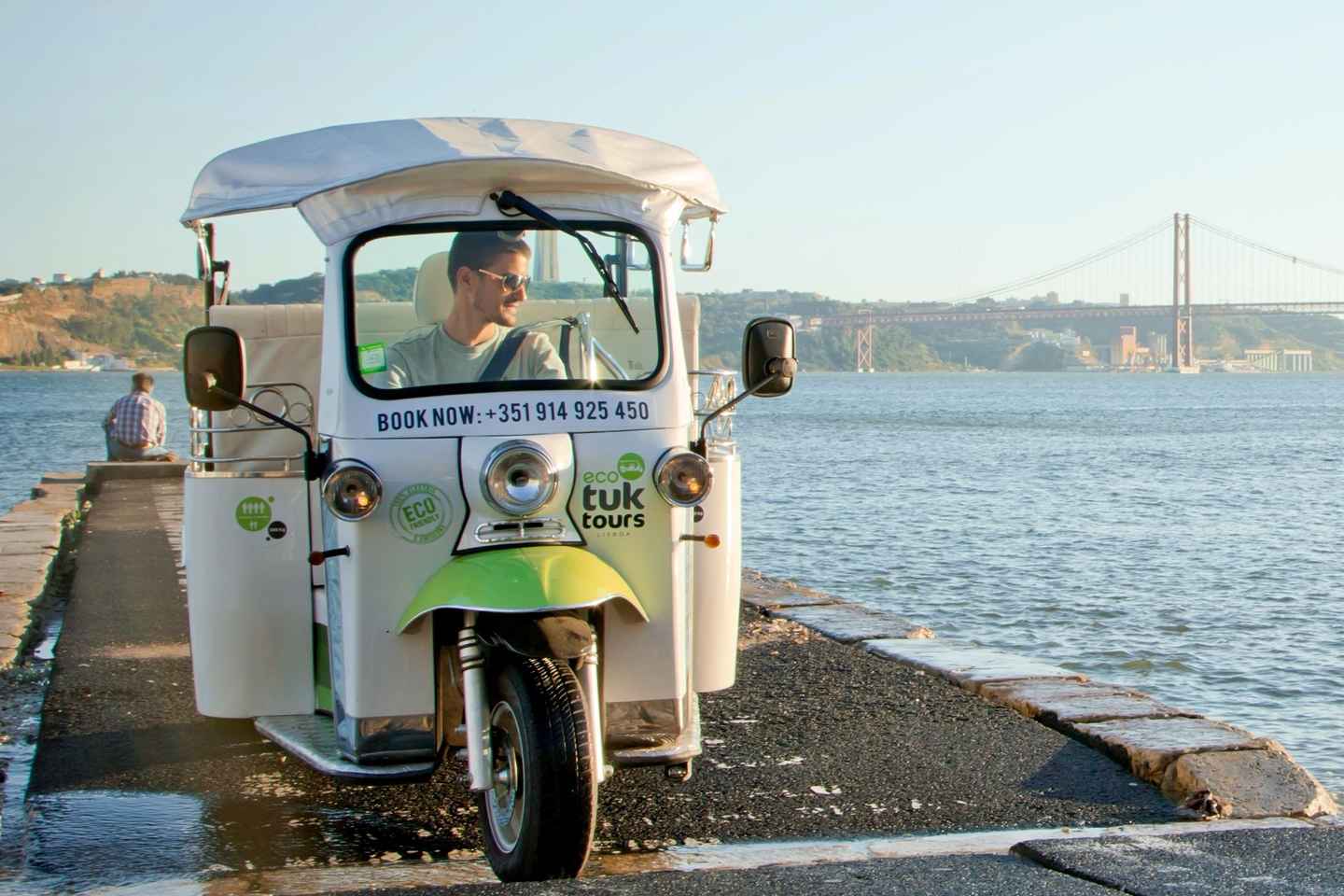 We warned you that Lisbon has the most original food tours, didn't we? This 3-hour food tour will take you to Lisbon's best eateries by the means of an eco-Tuk! You'll get to travel by an all-electric Tuk-Tuk and explore the cities hilly narrow streets in a comfortable way. You'll stop at the highest hill of Lisbon for a picnic which will allow you to listen to your guide's stories about the city whilst you taste the local specialities. This is one of the most creative ways to explore Lisbon and go off-the-beaten track.
Lisbon 2.5-Hour Food Tour by Eco-Tuk

Duration: 2.5 hour
This 4-hour tour will give you a true Portuguese experience and let you mingle with the locals at the local markets. You'll be taken to see the city's most iconic places and get introduced to the local specialities such as the 'pastel de nata' (custard cream tart), the Ginginha (a cherry liqueur), and all the traditional Portuguese sweet and savory dishes. Sounds wonderful? Book your tour, then!
Half-Day Gastronomic Route Tour

Prices: from 33 USD
Lisbon: a food tour lover's dream
When we said Lisbon had some of the best food tours ever, we weren't exaggerating: there are walking tours, tuk-tuk tours, Segway tours… and all of them will take you on a historical and culinary journey through Lisbon's most iconic places! Who said a food tour needed to be taken on foot? You'll certainly need to exercise afterwards but until then, just enjoy the exceptional Portuguese dishes: you won't find them anywhere else.
Disclosure: Trip101 selects the listings in our articles independently. Some of the listings in this article contain affiliate links.
Get Trip101 in your inbox
Unsubscribe in one click. See our privacy policy for more information on how we use your data