The Old Pueblo is more commonly known as the city of Tuscon, Arizona, a beautiful city that sits just 60 miles (97km) north of the U.S-Mexico border and has a population of just over a million people as of 2015. While the nickname "The Old Pueblo" is a little lost in its origins, some people say that it came from when rail service was first established in the city and telegrams were first sent out to the president saying the "Old and honourable pueblo" was now connected to the outside world. Tuscon has lots of things to do and see in cultural events that can only be found in the southwest, but if you only have 24 hours here, you'll want to see the best. So here is our list of things to do if you only have 24 hours in The Old Pueblo.
1. Old Pueblo Archaeology Centre
Tuscon was home to paleo-Indians for at least 12,000 years before any white settlers even arrived. As such, the area around the city is full of wonders and artefacts from the ancient world. Excavations have found numerous artefacts over the years from painted walls in caves to arrowheads and rudimentary tools and objects. The Old Pueblo Archaeology museum lets visitors come by and marvel at these ancient findings and learn about the origins of the people that once lived in this area. Watch a pottery making presentation or take in the exhibits.
Old Pueblo Archaeology Centre

Address: Tucson AZ 85717-0577

Website: Old Pueblo Archaeology centre
2. Arizona-Sonora Desert Museum
Listed as one of the top 10 museums in the U.S by TripAdvisor, the Arizona-Sonora Desert Museum aims to inspire people to live in harmony with nature. The museum is dedicated to preserving, learning and teaching about one of America's biggest deserts by showing people the natural wonders of the Sonora desert. Learn about the animals that live there, the natural ecosystems that take place here and there and the abundance of flora and fauna that call it home. A great place for the whole family to spend a day.
Arizona-Sonora Desert Museum

Address: 2021 N. Kinney Rd., Tucson AZ 85743 U.S.A

Website: Arizona-Sonora desert museum
3. Sabino Canyon
Take a ride through the beautiful Sabino Canyon. Experience the beauty and wonder of one of the most spectacular desert oasis in the southwest. Located in the Coronado National Forest, Sabino Canyon is home to tons of wildlife and gorgeous plant life where guests can see and take in the natural beauty. People can hop off the bus and walk around and take some snapshots or stay on while you cruise through the desert and mountain ancient mountain ranges.
Sabino Canyon

Address: 5900 N. Sabino Canyon Road

Website: Sabino Canyon
4. Mission San Xavier del Bac
Founded as a Franciscan mission in 1692 the Mission San Xavier del Bac is known as the "white dove of the desert". The beautiful mission is open to visitors and is a historic landmark that still retains its original purpose ministering the religious needs of its parishioners. The mission was originally part of New Spain and then part of Mexico but following the Gadsen purchase of 1854, the mission soon found itself as part of the United States. The Mission San Xavier del Bac is a beautiful spot to visit for an afternoon and is a great option for the religious and non-religious alike and best of all admission is free!
Mission San Xavier del Bac

Address: 1950 W. San Xavier Road .Tucson, AZ 85746-7409

Website: Mission San Xavier del Bac
5. Cafe Poca Cosa
So you've been exploring Tuscon all day and now you need a little something to eat? Try out Cafe Poca Cosa, owned and operated by chef Suzana Davila, you'll get a taste of authentic Mexican-American food that's upscale and delicious. Taking flavours and ingredients from the locally sourced methods, the food is fresh, delicious and some of the best in the city. Indulge in this unique and flavoursome dining experience. The menu changes twice daily so the food is always fresh and the menu is always new so make sure to come back.
Cafe Poca Cosa

Address: 110 EAST PENNINGTON ST TUCSON, AZ, 85701

Website: Cafe Poca Cosa
6. Pima Air and Space Musuem
The Pima Air and Space Museum is one of the largest non-government funded air museums in the world! For any fan of aviation out there, you'll be in for a real treat as the museum holds over 350 different historical aircraft sitting on 80 acres of open-air museum space. Take a walk through the history of aviation started at a Wright Flyer and going through several WWII aircraft an finally seeing the 787 Dreamliner of today. Definitely, an easy way to spend a whole day marvelling at one of mans greatest creations.
Pima Air and Space Museum

Address: 6000 E. Valencia Rd.Tucson, Arizona 85756520 574-0462

Website: Pima Air and Space Museum
Combine the history of Tuscon with awesome biking paths in the area! Ride around the historic areas of Tuscon and learn about bank robbers to missionaries to the Spanish colonial period in a 10-mile (16-km) bike ride through the city. You'll go through crowded city streets to quiet alleyways, all while learning about the fascinating history of the city and getting a workout!
Historic Bike Tour in Tucson

Duration: 2 hours 15 minutes
For the unfamiliar, the party bike is sort of like a party bus but on a bike! Coolers, lights and a music system is all set up so you and your friends can party while you ride around the city. Bring your own beer on board or get recommendations from the "pilot" on the best pubs around town. You and 14 friends can party through the streets of Tuscon while you get a workout on the bike.
Party Bike Private Party Up To 15 People in Downtown Tucson

Duration: 2 hours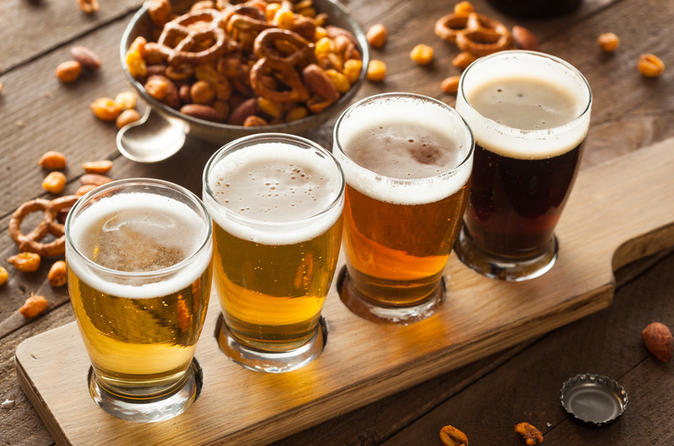 Tuscon is home to some up and coming breweries and you should be on there while it's hot. This is certainly a tour for people who enjoy their suds as you'll get to experience just about every different kind of microbrewed beer Tuscon has to offer from ambers to pilsners and IPA's. The Tuscon gastronomic scene is varied and diverse so you'll be sure to try many different drinks and even food while you're on the tour. The price of admission gets you a tour around three local breweries, lunch and transportation to and from your hotel.
Tucson Beer Tour

Duration: 4 hours
Tuscon is known for its biking, whether you're going around the city or taking a mountain bike out into the desert, Tuscon is one of America's most bike-friendly cities. Rent a bike and take a stroll along "the loop" which is an extensive trail throughout the city where you won't have to worry about a single car. Each visitor will have their own bike outfitted for your needs in mind and you'll also get a helmet, map and mileage chart to see how far you've gone!
Bike Rental on The Loop path

Duration: 3 hours 30 minutes
The Old Pueblo
Tuscon is a great city to visit but if you only have a short amount of time make sure to hit up some of these fun spots around town. Grab a bike, head to a museum and experience some of the local flavours.
Disclosure: Trip101 selects the listings in our articles independently. Some of the listings in this article contain affiliate links.
Get Trip101 in your inbox
Unsubscribe in one click. See our privacy policy for more information on how we use your data